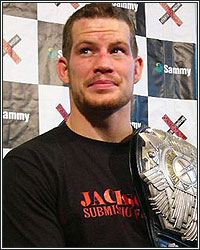 "I definitely want to fight Anderson. I don't know when I'm going to get that chance, but until then, I would like to fight Dan Henderson and Michael Bisping and anybody else out there that's a contender," stated UFC middleweight contender Nate Marquardt as he talked about his future plans. Check out what he had to say about his impressive win over Martin Kampmann, his thoughts on Silva vs. Cote, Bisping vs. Leben and much more.

PC: Congrats on the big knockout victory over Martin Kampmann.

NM: Thank you!

PC: How do you feel about your performance?

NM: I was really happy. I had been working hard on some specific things and I think it paid off in this fight.

PC: You seem to be getting very comfortable with your standup game. Is that the case or were you trying to set up your takedowns and the knockout just came?

NM: No, I mean, I really was just looking for any opportunity to attack. If he gave me a takedown opportunity, I was going to take it. I definitely felt comfortable on my feet.

PC: I know you've been working with Trevor Wittman on your standup. How much have you been drilling that aspect of your game?

NM: Yeah, I've been working with Trevor since early 2005 consistently.

PC: Kampmann was no pushover for any fighter. What was your gameplan going into that fight?

NM: Well, I wasn't sure what his gameplan was going to be. I thought he would try and stand with me, but he had finished 3 out of 4 guys in the UFC by submission so I thought he would try to get me down and try to win the fight that way.

PC: You landed a nice high kick to start all of the trouble for Kampmann followed by a barrage of head shots, but a lot of people didn't see the body punch that really hurt him. Did you sense that?

NM: When I was flurrying there at the end, he was really covering his head up and his elbows were really high so his body was wide open and the body punch is actually what finished the fight.

PC: You've looked a lot more aggressive since the Anderson Silva fight. Did you change up some things or did you just take a different mindset after that fight?

NM: Definitely. I changed some things technically, but that's not what it was about for me. It was definitely the mental and the way I approached fights and the way I fight. I used to fight cautious and defensive and now I fight more offensive-minded and aggressive.

PC: Knowing how Kampmann recovered in the McFedries fight and came back to submit him, how cautious were you to finish him?

NM: Like you said, he has really good composure when he gets hurt. I've seen him get rocked in about 3 fights and be able to recover and come back and win the fight. That was one thing coming into the fight that I knew I had to watch out for, but when I had him hurt, I knew I could finish him then. I wasn't thinking about gassing out and him recovering or nothing like that.

PC: Your physical presence has looked a lot different in your last 2 or 3 fights as well. You've packed on some muscle. How have you achieved that?

NM: I have a real good conditioning coach; it's the same guy Georges St. Pierre uses. He's up in Canada so when I go up there, I get to work one-on-one with him and he comes down to Denver and Albuquerque, but I talk to him like 4 times a week. I talk to him about my workouts, how I'm feeling and my diet. He basically designs a plan for me depending on how my training is going and what stage I'm in preparing for a fight. It's really changed my game a lot. I feel a lot stronger and not only stronger, my strength lasts through the whole fight to where when I used to get tired, my strength would kind of suffer for it. Now, even if I get tired, my strength is still there.

PC: It's always nice to get a quick stoppage, but did you think you had the knockout of the night sewed up until your teammate Rashad ruined it?

NM: (Laughing) I thought I did, but I was glad after Rashad's fight that I didn't because that was the perfect way for him to win that fight. I was really proud of him and happy for him. Sometimes it's frustrating when you hear Rashad being the underdog all of the time when I know his ability.

PC: It looks like all of the cards are filled up for this year. What would you like to do next?

NM: I definitely want to fight Anderson. I don't know when I'm going to get that chance, but until then, I would like to fight Dan Henderson and Michael Bisping and anybody else out there that's a contender.

PC: You've always been a clean fighter. Were you surprised you got so much criticism after the Leitas fight?

NM: Yeah, I was surprised at first, but I think it's kind of funny that after one fight, people would beÂ…I think it's a good thing though because a lot of people didn't know who I was before that fight and now they have an opinion of me. Now, when I fight, they'll have their eye on me and realize that I'm not a dirty fighter, but I think that was a good thing for me. I got a lot of publicity and a lot of fans for that fight.

PC: Who do you like in the fight with Anderson Silva and Patrick Cote?

NM: Silva on paper has the advantage, but I think Cote has a good chance. He's got good boxing skills, he's a tough guy and he's going to hang in there. Even if he gets hit, he's not going to freeze up. He definitely has a chance.

PC: What about Leben-Bisping?

NM: Honestly, I think Leben has a slight edge in that fight. He's going to be the stronger and more powerful fighter. I know Bisping will be a little quicker, but he doesn't have the punching power to take Leben out. Leben does have the punching power to take Bisping out, but if it goes to the scorecards, Bisping will win.

PC: You've been looking real solid my man. Good luck in your next fight. Is there anything you want to say in closing?

NM: I want to thank all of my sponsors and thank God. If anybody wants to look me up or check out my blogs, they can go to www.natemarquardt.com.
[ Follow Percy Crawford on Twitter @MrLouis1ana ]