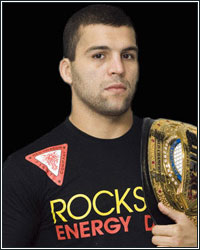 "I hope to accomplish a good win, of course, see how my game is developing and look for the knockout all the time, everywhere...It'll be a very aggressive fight for sure," stated former EliteXC middleweight champion Murilo "Ninja" Rua as he talked about his upcoming clash with Benji Radach. Check out what he had to say about the fight, his future plans and much more.

PC: How is everything going Ninja?

MR: I'm fine, thank God! My first kid just got born and I'm living a new phase in my life and in my career, looking to mature both as a person and a fighter and training hard as always and improving my techniques.

PC: How is training going for your fight with Benji Radach?

MR: Training is great. New coaches and a new structure; as I said, a new phase.

PC: What do you think of Benji as a fighter?

MR: I think he is an aggressive fighter with good boxing skills and solid wrestling.

PC: You're on a 2-fight winning streak since the Lawler fight. How far do you think you are away from getting another shot at the title?

MR: That's my goal. I hope that after this fight, I can fight for the belt again.

PC: Are you considering making a move to the United States?

MR: I think about it for the future, but I would only do it under a great structure and a nice proposal. I have good trainers here and all the structure ready so I would need a bigger incentive to leave this behind and try life in America.

PC: You will be making your CBS debut. How important is it for you to impress on this show?

MR: I think it's a very big opportunity, without question. I know this and I plan on making use of this opportunity to present a great spectacle for the fans.

PC: Does it add any pressure on you to be on CBS?

MR: No, I don't feel any extra pressure. It just gives me more will to win!

PC: Every fighter takes something away from a loss. What did you take away from the Lawler loss?

MR: Well, I surely made some mistakes that I can see clearer now and I don't plan on repeating those in the future. Losing surely will help you a lot in your learning process.

PC: What do you hope to accomplish in this fight against Radach?

MR: I hope to accomplish a good win, of course, see how my game is developing and look for the knockout all the time, everywhere.

PC: Can you give us a prediction for this fight?

MR: It'll be a very aggressive fight for sure.

PC: Would you like the opportunity to fight a guy like Anderson Silva in the future?

MR: That's not something in my mind right now. Anderson is a good friend, a former teammate and someone that has even helped me out recently. I like him and wouldn't really prefer to fight him, but we're both professionals so if, in the future, we have to fight for a belt, it's our job.

PC: How is Shogun doing mentally and physically and can we expect a strong comeback from him?

MR: He is 100% recovered and has resumed training. He is very anxious to fight again and I truly believe he will soon have the UFC belt. It's just a matter of time.

PC: Good luck in October. It was my pleasure. Is there anything you want to say or anybody you would like to thank at this time?

MR: Thanks, it was my pleasure! I would like to thank the folks at Midway Labs that support me with my supplements, Koral Fight Company, Red Dragon Fight Club website for the partnership for a long time already as well as Rockstar Energy drink, who has been with me on my fights. I would also like to thank the people from X-Sports, who have been supporting me for years already, and I can't forget to thank my manager, Eduardo Alonso, who always takes care of me. Last, but not least, all the people at our new team UDL. We are making an effort to create something great and people like my boxing coach, Danilo Dourado, my BJJ coach, Cristiano Carioca, Muay Thai coach, Mauricio "Veio" Amado, and all the sparring partners and people that invested money in it. We truly form a team and I want to say thanks to all of them! Hats off to you guys from the press as well that help spread the word about our great sport around and for the fans that make our job a lot easier to do.
[ Follow Percy Crawford on Twitter @MrFighthype ]