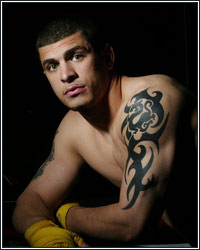 "I want to fight the best guys. In order for me to get to the top, I gotta go through the best. Obviously he was there a little bit before me so I have to get in line. I beat McFedries and now if I can take CB out, I will be stepping in the right direction," stated up-and-coming UFC middleweight Mike Massenzio as he talked about his upcoming clash with CB Dollaway at UFC 92. Check out what he had to say about the fight and much more.

PC: How is everything going?

MM: Same old thing man; just training.

PC: How did this fight with CB Dollaway come about?

MM: I made my UFC debut fighting Drew McFedries and I upset him and surprised everybody. I got a call from my manager letting me know they wanted me to fight CB and, believe it or not, I actually wanted that fight. I actually wrestled him in a junior college competition. He was my only loss. I lost to him in the national finals the first year and the second year, he lost in the semis and I went ahead and won it. I beat the kid that beat him. I actually never got a chance to wrestle him again. I always said if I had the chance to compete against anybody, I would want it to be CB and now I'm fighting him.

PC: We see so many former college wrestlers in MMA now. What do you feel are the positives and the negatives of wrestlers in MMA?

MM: To tell you the truth, on the positive side, after wrestling in college, unless you're at the Olympic level, there is no other avenue for us. There is no professional wrestling. There is no other one-on-one competition and wrestling is a very physical sport, even though you can't punch or anything, but I feel like with the style of wrestling, having good head position, control and keeping tight, I feel like a lot of wrestling in MMA is helping out a lot. The only negative side of it is when a wrestler thinks he's going to go into MMA and dominate strictly with his wrestling. You have to be open-minded and versed in everything. That's what I try to do. I want to be great at everything and not just be good in one area.

PC: The UFC is as big as it gets for a fighter. How did you feel going into the fight with McFedries?

MM: Honestly, I felt great. The only concern I had was if I would be ready for the amount of people that show up to these events. I was a 2-time state champion wrestler in high school and I wrestled in front of 18,000 people in the finals. I just wanted to go out there and do the best that I could, impress everybody and just dominate.

PC: At UFC 92, you will be facing a completely different style than McFedries against Dollaway. How different will your attack be going against another wrestler?

MM: This will actually be my first time going against another wrestler. I'm happy because I'm going against somebody that's going to try to do what I'm best in. I don't really have to worry about if he has good standup or if he's a Jiu Jitsu guy. I approach every fight the same way. I go over tapes and try to pinpoint what he's best at. For the most part, I fight everybody the same way. My training really doesn't change too much. I stick with what I'm good at. I try to apply pressure and do the same things I always do.

PC: Most people feel 2 wrestlers can't be in an entertaining fight. Can we expect fireworks in this fight?

MM: Definitely. I'm there to be exciting. I'm not there to lay on people, although I do what I have to do to win. I can't predict what's going to happen, but I'm going to be working for the knockout or the submission.

PC: What do you think of CB as a fighter?

MM: Honestly man, I think he's a great athlete. Like I said, I competed against him once. That's why I want to fight him because I want to fight the best guys. In order for me to get to the top, I gotta go through the best. Obviously he was there a little bit before me so I have to get in line. I beat McFedries and now if I can take CB out, I will be stepping in the right direction.

PC: You came from the undercard of an Ultimate Fight Night to being on the main card of one of the best cards I've seen in a long time. How do you not let the bright lights blind you?

MM: I just have to stay focused; that's my goal. I'm going to go out there with everything that I got, leave it out there and if I do that, I will definitely come out on top. It's a dream come true man. It's like you said, a fight ago, I was on the undercard and a fight before that, I wasn't even in the UFC. This is probably the best fight card ever and I'm right in there so I'm just going to do what I have to do. I'm going to stay focused and give it everything that I've got.

PC: We've seen some organizations go under. You fought in the IFL, which didn't make it. How does it feel for you to have a 4-fight deal with 3 remaining in the UFC?

MM: It feels great. I've been wrestling since I was 4 years old. I've been competing my whole life. Ever since I started doing this, my goal was to be in the UFC and become the UFC world champion. It's a dream come true. It's not over yet. I have to take it one step at a time, but I'm here and I'm here to stay. It is a great feeling.

PC: CB seems to be vulnerable to armbars. You have 5 straight submissions in your wins. Is that something you will be looking to exploit?

MM: He's a great athlete. He does seem a little vulnerable for submissions, but I'm going to go out there and try to push him to the limit. That's what I do with everybody, just try to break him down mentally and physically. I will apply pressure and give non-stop action. If he leaves something out, I will definitely capitalize on it.

PC: A lot of people weren't able to see your fight with McFedries. What do you bring to the table?

MM: I'm going to leave it all out there. I'm going to come full blast. I'm in great shape. My cardio is out of this world. My goal is to apply pressure. I give it everything I got and just keep pushing; non-stop action. Whoever I fight, I want to just break them down. When they feel like they have a second to breath, I'm right there on top of them.

PC: Good luck Mike. I appreciate the interview. Is there anything else you want to say?

MM: No, I'm good man.
[ Follow Percy Crawford on Twitter @MrFighthype ]