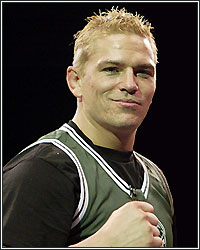 "I moved Junie Browning into my house about a month and a half ago. I've kind of taken him under my wing and kept an eye on his training, career and his (laughs) social life I guess. I see big things from this kid and he's young; he's only 21. I think he just needed the right people to surround him and he's doing a great job. I'm real proud of him," stated Xtreme Couture trainer Shawn Tompkins as he talked about Junie Browning and gave an update on several other fighters he works with, including Randy Couture, Wanderlei Silva, John Alessio, Chris Horodecki and much more. Check it out!

PC: How is everything going Shawn? It's been awhile since we last spoke.

ST: Everything is good. I'm just busy. I had to go over to Japan with Chris Horodecki fighting out there in a shootboxing tournament.

PC: We haven't heard anything from Chris in awhile now. How has he been doing?

ST: Good. You know what? He's so young, a little bit of time off isn't a bad thing. We're going to fight again January 24th with Affliction, but we wanted to get a little something in before that. The shootboxing tournament he was in was all kickboxing. It was just getting him active again and in front of a bunch of people. It's always been a dream of his to go to Japan so it was a cool trip.

PC: I know you were in Randy's corner for the Lesnar fight and I'm sure you're disappointed, but I didn't walk away from that fight thinking I just watched an old man. What did you think of his performance as well as his future?

ST: I think we handled the fight pretty well. Randy was winning the fight up until he got caught. I think it would've been a different fight if Brock didn't grab the cage those couple of times there when Randy was going for slams. But this is MMA and things happen. As far as Randy and his career, we're just waiting to hear and figure out what the next fight is going to be. He doesn't have any plans of retiring so we're just waiting to see what happens. He's healthy after this fight so he's just gotta get back on the horse and look forward to getting another fight soon. It is disappointing though. Randy is a legend in the sport and a killer in the gym with us so for him to take a loss was sad for all of us. Again though, Randy Couture, of all people, knows how to deal with a loss and come back. He's been there before and he knows he could come back and impact the sport more than he ever has.

PC: I also don't think he has to move down to light heavyweight either. I think he will be fine at heavyweight. What do you think?

ST: I think he'll stay at heavyweight just for the fact that he's done both before. Fighting bigger guys isn't that big of a deal to Randy. He prefers that. It's just his mindset. He does well and performs great against the heavyweights. I think just to maintain where he's at in the sport, he will stay at heavyweight.

PC: I'm sure you will be working with Wanderlei Silva to prepare him for Quinton Jackson. Have you guys started working together yet and if not, when will you start?

ST: We've been working with him all along during Randy's camp. He came up and started real early for this fight. He looks great. He's real healthy right now and Wanderlei just keeps getting better and better. Fortunately, he's had the opportunity to work with Demian Maia for his Jiu Jitsu because Maia was getting ready for his fight. He's had all of the sparring at Xtreme Couture that he could ever need and I've been working his Thai Boxing. Rampage has went down in defeat a couple of times to Wanderlei before and I can't see it being any different this time.

PC: Shawn, I see you on these countdowns sparring with a bunch of guys. Do you ever get that itch to want to get in there?

ST: You know, if I get the right opportunity or offer, I guess it comes up, but first and foremost, I am a trainer and a coach of the game. You can't half do one and get away with it. I can't maybe want to fight and then still do my job as a trainer; it's not fair to the fighters that I train. I think I will stick to training. There was a time there last year where I was fielding a couple of offers, but they weren't really willing to follow through with them so I've made the decision that I'm always going to be there to fight and spar with my guys and that's a good enough challenge for me.

PC: I tell people all of the time that you had the best quote after Kimbo lost to Petruzelli. You said, 'Maybe now he won't be headlining cards and they could start him where he should have been from the beginning." Could you explain that a little more?

ST: Yeah. I mean, everything happened for a reason. I really wish…fortunately, Kimbo made a lot of money in the way that he did it. He did well for himself. If I would've been in control of his career and his longevity in the sport, I would've done it a little differently. I would've built him and picked certain opponents to slowly build him into his grappling game and brought him along better, but you know, for a guy that came from the streets, getting thrown in front of 18,000 people and in the main event with millions of people at home watching…that's a lot of weight to carry. I really think that maybe this is a good thing for him. Nobody likes a loss and Kimbo is a very good friend of mine, but at the same time, I think this gives him a chance to…people won't look at him as hard and this gives him a chance to breathe a little bit. He's going to actually have some time to improve his game.

PC: You've been around the game a long time Shawn. Do you think he was a little too green to take a last-minute replacement fight?

ST: I think it really messed with his mind for sure. He's never been in that position before. If he had an amateur background or if he had taken more fights that weren't such high level, that might not have affected him as much. But he really…basically he thought that he wasn't going to be fighting. And not only was he going to be fighting again, but against a totally different type of opponent. I give Seth all of the respect in the world. He won the fight, but I don't know if it would happen that way if they did it again and Kimbo actually trained for him; all of the respect and power in the world to him.

PC: I never know who you are working with because you have so many guys. Give us a little run down of your next month or so?

ST: I have John Alessio fighting out there against Paul Daley from Elite XC; which is a big fight for John Alessio. Those 2 guys are kind of on the brink of really having big careers. It's going to be an important fight for the 2 of them. When I get back from that, I've got Junie Browning from The Ultimate Fighter this season as well as Vinicius Magalhaes who will both be fighting on December 13th in the Ultimate Fighter Finale here in Vegas. One of the big stories out there right now is the fact that I moved Junie Browning into my house about a month and a half ago. I've kind of taken him under my wing and kept an eye on his training, career and his (laughs) social life I guess. I see big things from this kid and he's young; he's only 21. I think he just needed the right people to surround him and he's doing a great job. I'm real proud of him.

PC: Did you just see something in Junie or did he contact you? How did you start working with him?

ST: Really, what happened was his management team who just picked him up, Denaro Sports Management, contacted me and they asked if I would be interested in working with him. It just so happened that I was in Chicago for the UFC and they contacted me. They asked if I had seen the kid and I was like, "Yeah, I've seen him. He's real tough, but obviously he's got some things he needs to straighten out in his normal life." They asked if I would be interested in training him and I told them only with a couple circumstances. I told them he had to move to Vegas and live in my house and train at Xtreme Couture up until the fight. They talked to him, he seized the opportunity and away we go. He's really become a true Team Tompkins member. He's already like a son to me. He's going to make big waves.

PC: When you get back, give me a call. I'd like to speak more with you on things that you have going on.

ST: I certainly will Percy. I appreciate the call man, thank you!
[ Follow Percy Crawford on Twitter @MrLouis1ana ]