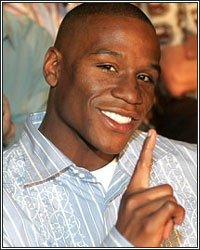 According to Dan Rafael of ESPN.com, retired pound-for-pound king Floyd Mayweather Jr., who's been seen sparring and working out regularly at his gym in Las Vegas, is ready to make his return to the ring and could do so as early as July. Sources informed Rafael that members of Team Mayweather have had preliminary discussions with HBO regarding the availability of the network's July 11 date.

"He's itching to go. The way he sounded, he is willing to take on whoever they throw in his face. He would do the Pacquiao-Hatton winner, Shane Mosley, Juan Manuel Marquez. The only one he doesn't have an interest in is Oscar De La Hoya. But in Floyd's mind, he knows there is one Godzilla, and that's a fight with Pacquiao," a source revealed.

The July 11 date is currently on hold for the network's edition of World Championship Boxing. Apparently, Mayweather, who's last four bouts took place on HBO Pay-Per-View, is interested in fighting a tune-up bout on HBO World Championship Boxing before taking on the winner of Hatton-Pacquiao this fall on pay-per-view.

One should note that July 11 is also the date of UFC 100, headlined by UFC heavyweight champion Brock Lesnar defending his title against the only man to beat him in the Octagon, UFC interim heavyweight champion Frank Mir. Also on the card, UFC welterweight champion Georges St. Pierre defends his title against top contender Thiago Alves and The Ultimate Fighter Season 9 coaches Dan Henderson and Michael Bisping go toe-to-toe.

If Mayweather is indeed planning his return for July 11, it should be interesting to see what kind of an impact it will have on UFC 100 and vice versa. Mayweather in a tune-up or a stacked UFC 100 card? Hmmmmm. Personally, I'll be watching UFC 100. Thank goodness for DVR though.