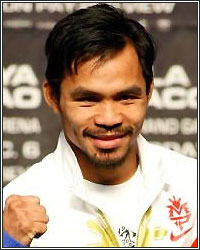 In a recent interview, Manny Pacquiao revealed that Floyd Mayweather Jr.'s camp personally notified him that the retired pound-for-pound king is ready to make his return to the ring. "He's not really retired...I heard from Floyd Jr.'s camp that he's coming back to the ring," the current pound-for-pound king would tell Michael David Smith of boxing.fanhouse.com. Despite being informed of the news, Pacquiao isn't so sure that Mayweather will indeed be his next opponent. "For me, if I'm Floyd, I would fight a tune-up and then fight me. That's for me, but I don't know what his plan is. He might want to fight me right away," he continued. Nevertheless, trainer Freddie Roach already has a backup plan assuming Mayweather does want a tune-up or the two sides can't come to an agreement during negotiations.

"If the negotiation with Floyd doesn't work out, I'm sure it's Marquez. Where else do we have to go. I think there's only two guys out there; maybe three. Floyd, Shane Mosley possibly, the weight's a little bit of an issue there, and then Marquez. I don't think we have a lot of options because nobody wants to see Manny fight a small fight," Roach stated. Indeed, a third bout with current WBA & WBO lightweight champion Juan Manuel Marquez is another lucrative fight that Team Pacquiao could pursue if negotiations with Mayweather go south and they don't get what they believe to be a fair share of the purse. That being said, Team Mayweather could also decide to face the lightweight champion as Marquez recently declared his own desire to face Floyd. After his 9th round knockout win over Juan Diaz, Marquez stated, "Pacquiao is the best now pound for pound, but he doesn't really want to fight me, so I want to fight the best pound for pound and that would be Mayweather." If that's the case, it would appear that Marquez would stand to benefit in negotiations with both camps.

Assuming all goes well for Manny Pacquiao in May, things will get very interesting as the return of Mayweather Jr. gets closer. First things first, however, and Manny Pacquiao will have to make sure that Ricky Hatton doesn't spoil the plans of a lot of interested parties. On May 2nd, all eyes will be on Pacquiao vs. Hatton as that fight could very well decide the near future of boxing!