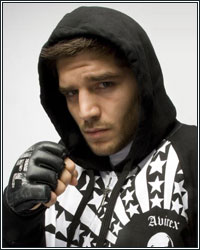 FightHype.com recently caught up with UFC middleweight contender Patrick Cote, who revealed that he was far from impressed with the lackluster main event between champion Anderson Silva and challenger Thales Leites at UFC 97. "Boring! At least I tried to engage with Silva," stated Cote, who was particularly irritated with the performance of Leites.

"Fuck, I'm actually a little pissed. I like Thales and all, but that was awful," continued Cote, sighting fear as a definite factor in the performance. "He looked very scared and nervous in there. I wasn't scared at all. I want Silva back!"

Cote served as a commentator during the Canadian telecast of UFC 97 and was last seen in the Octagon trying to dethrone Silva in a title fight that took place in October of 2008. Unfortunately, Cote blew his knee out in the beginning of round 3 of that fight and was unable to continue. He has been rehabbing his surgically repaired knee and is eyeing an August return to the Octagon.
[ Follow Percy Crawford on Twitter @MrLouis1ana ]