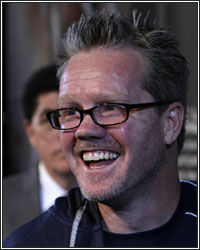 Is the decision to face Mayweather up to Manny Pacquiao? "Well, if Pacquiao wants the fight, Bob's gonna do what Pacquiao wants because he's our promoter and if the fighter wants to fight the fight, he'll definitely get us that fight I feel. There's a little dislike there [between Mayweather and Arum], it's just negotiations, you know. Bob's good at what he does and I'm sure Haymon's good at what he does and they'll work it out if that's possible," stated world-class trainer Freddie Roach as he spoke about the possibility of Manny Pacquiao fighting Floyd Mayweather Jr. during his in-studio appearance on ESPN2's Friday Night Fights.

Although it sound as though a bout between the two best fighters in the world will be easy to make if Pacquiao so chooses, it's highly unlikely that it will happen any time soon as Roach made it clear who the top draw is and who will be getting the lion's share of the purse. "But the thing is we're not going to wait for this guy though. If something else comes up for us; he chose to fight somebody else. We're the top dog right now. If he wants to make the kind of money he's talking about, he has to fight Pacquiao because Pacquiao's the draw right now, not Floyd Mayweather...The hardest thing with Mayweather, he wants the 60/40 he's talking about, you know. Pacquiao's the number one guy. 60/40 our way will work. 60/40 his way, it's not happening," Roach stated.

Not to be left out of the equation, welterweight champion Shane Mosley has also stated his case that both Pacquiao and Mayweather should be looking to fight him. "Let the best fighters fight the best fighters. Cotto lost to Margarito. I beat Margarito. Yeah, it was a close fight with me and Cotto. I could've won that fight and I wanted the rematch to try and prove myself, but it never happened. But, I still fought Margarito when everyone thought I was going to lose and I totally won that fight. So, with that being said, right now, I'm the best number one welterweight out there so they should be looking to fight the number one welterweight, not just any welterweight," Mosley commented during a recent interview on ESPN.

When asked about the possibility of Pacquiao facing Mosley, Roach reiterated that a showdown was certainly possibly, but not at the welterweight limit of 147 pounds. "It's definitely a possibility because it's probably the most action fight out there. It's the best fight style-wise because both guys are fast, they both like to exchange of course and it's a great fight. I just would like to see Shane come down a little bit in weight. Instead of fighting at 47, you know, we could fight at a catchweight somewhere. And you know, it's a big, big fight of course and definitely something that's on my mind," Roach commented.

At what weight would Roach like that fight to take place?

"43 [143], 44 [144], you know. Everything's negotiable of course," he replied.

Left without any big fights after his scintillating win over Margarito, Mosley would be more than willing to fight either Pacquiao or Mayweather, however, it looks like his top choice is definitely Mayweather as he took the time to send a special message to the returning undefeated pound-for-pound champion. "Floyd, quit running. Stop running. Stop saying that, oh, you know, I'm not a pay-per-view attraction, oh this or that. I've been fighting longer than you. I've been making money longer than you. That's probably why you're coming back to the sport right now is because you need money, you lost your money, now you had to come back and get some more mone. We can make money togther, alright? So let's do it," stated Mosley as he closed out the interview.

When asked what he thought of a fight between Mosly and Mayweather, Roach commented, "Great fight. I would love to see that. I might pay to see that one. I mean, it's a very good fight. I would love to see it. You know, I would pick Shane in the fight because he's been more active...I think he's a good puncher and a better puncher than Mayweather and I think he'll hunt him down and he'll find him. Mayweather has trouble with guys who come after him. That's why he chose to fight Marquez, who's a counter puncher, but the thing about two counter punchers fighting each other is that they might put you to sleep. You might be asleep by the middle of the night."

There's a lot of anticipation for any combination of these three elite fighters to face each other. Pacquiao vs. Mayweather, Mayweather vs. Mosley, Pacquiao vs. Mosley...I'll take any one of them and happily pay my $49.95 despite the fact that the undercard will likely be crappy. Heck, I'd even be willing to pay $59.95...just give me any one of them. unfortunately, I have a bad feeling that none of them will be facing each other any time soon as they all will demand too much money, preventing any of the parties to come to agreement at the negotiating table.
[ Follow Ben Thompson on Twitter @fighthype ]