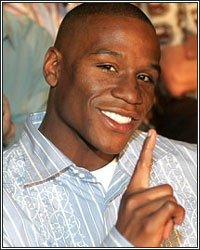 During a recent online chat, Floyd Mayweather Jr. answered questions posed to him from a couple of his fans. Although the majority of the conversation revolved around recent comments made by Shane Mosley, Mayweather did take time out to address the possibility of a potential clash with Manny Pacquiao. "Pacquiao will never get 50/50. It'll be a cold day in hell before that happens," Mayweather stated when asked about the possibility of an even split of the purse.

With that kind of attitude, it seems highly unlikely that a clash between the two best fighters in the sport will happen any time soon. Promoter Bob Arum and trainer Freddie Roach have made it clear that they consider Manny Pacquiao to be the number one guy and the top draw in the equation. "60/40 our way will work. 60/40 his way, it's not happening," Roach would tell Brian Kenny during a recent interview. Mayweather, on the other hand, sees otherwise.

"He's a very good fighter who has a promoter and a trainer that are doing all the talking for him. I ain't heard Pacquiao mention my name one time. Why? He knows that he would get his ass torn out the frame fighting me. His promoter is jockeying for position to set his guy up, but that would never work with us. We deal with facts. When he fought Oscar, he did 1.25 [million]. When I fought Oscar, we did 2.5 [million]. Against Hatton, they did 800 [thousand] and change. I did 930 [thousand] for the same fight. I did over a million in the UK and they did less than half of that," Mayweather continued as he explained his reasoning for demanding the bigger share of the purse.

While Mayweather's unwillingness to do a 50/50 split of the purse seems selfish and unfair to fans looking forward to the biggest fight in boxing, he does bring up some valid points. The numbers don't lie, which is probably the reason why Arum is reluctant to reveal the actual PPV numbers from Pacquiao's fight with Hatton. Still though, it's unclear as to which fighter is truly the bigger draw as they both needed Oscar De La Hoya and Ricky Hatton, two stars with their own huge fanbase, in order to generate such lofty numbers. Perhaps a better test of drawing power will be a fight with someone with a little less crossover appeal...which is why Mayweather's fight with Marquez is so intriguing.

If the Mayweather vs. Marquez pay-per-view card does anything close to the numbers that Pacquiao vs. Hatton did, then you can guarantee Mayweather will never come off his demands to receive the lion's share of the purse. If, however, his fight with Marquez does significantly less numbers, then Mayweather might feel a cold front blowing through hell and a 50/50 purse split might sound much more appealing.

Assuming that his fight with Marquez is a pay-per-view success, it looks like Mayweather is already anticipating his next move and it doesn't sound like it involves lengthy negotiations with Manny Pacquiao. "Since Shane is running his mouth and trying to be disrespectful, he just moved down the hitlist," Mayweather revealed when asked if he preferred to face Pacquiao or Mosley next. "One thing I promise my fans, they're all going to get it one by one," he continued. First up though is Juan Manuel Marquez, who, despite one some people may think, is definitely a tough opponent and a live dog for any fighter coming off such a lengthy layoff. If there was ever a time to catch Mayweather off of his game, this is it and Marquez will look to spoil the plans of a lot of people come July 18.