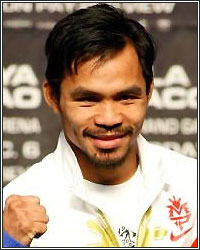 Despite recent reports that he's only interested in facing Floyd Mayweather Jr., it appears Manny Pacquiao will play the waiting game before dismissing all other options for his next fight. Although his next bout is already set for October 17th, he has yet to decide who will be the lucky winner of the PacMan Sweeptakes and it looks like Floyd Mayweather Jr., Miguel Cotto, Shane Mosley, Juan Manuel Marquez and others are all still in the running. Of course, that being said, it should already be clear who the winner will be.

According to reports that surfaced last week, Pacquiao informed the Bangkok Post that he's not interested in facing Miguel Cotto or Shane Mosley and if Mayweather wins his July 18th clash with Juan Manuel Marquez, then a Mayweather fight is his primary objective for the fall. Since that announcement, however, Shane Mosley has officially come on record to express his willingness to face Pacquiao at a catchweight. Now, in a turn of events, Pacquiao is reconsidering all of his options and it just might be Mayweather who's left without a significant dance partner.

Over the weekend, while vacationing with his wife and children, Pacquiao took time out to give an update on his future plans in his feature column on philboxing.com. Although my Tagolog isn't quite up to snuff, my good Pinoy friend Miss Rara was kind of enough to take time out of her busy schedule to summarize some of the more importants points made by Pacquiao:

"After my victory against Ricky Hatton of England in May, day after day, it is impossible to avoid the question asked by people, 'who is your next opponent?'

There's a possibly that Miguel Cotto of Puerto Rico could be my next opponent.

There is also 'Pretty Boy' Floyd Mayweather Jr. on the list of opponents I can face.

Mayweather's opponent in July is Juan Manuel Marquez. They are betting that if Marquez wins against Mayweather, it is certain that I will face Marquez for the third time.

There is also 'Sugar' Shane Mosley, who hasn't faded and is one of the boxers who said that he would like to fight me as soon as possible.

That is not where the list ends. There's a lot of opponents who want to try and fight me because of my rank as the number one pound-for-pound best fighter in the world.

I will not back down nor choose anyone. Just as long as my team chooses wisely and everything is fair and right, I will not back back down." - Manny Pacquiao, May 31, 3009

Although it's clear that Pacquiao is still considering all of his options, including Cotto, Mayweather Jr., Marquez and Mosley (interestingly enough, they were mentioned in that order), it sounds as if the final decision will ultimately rest with his team so long as they "choose wisely" and everything is "fair and right." Fair and right? In other words, assuming promoter Bob Arum is the person on the team calling the shots, expect Manny to be facing the opponent that's going to generate the most amount of money for him.

While a bout with Mayweather is clearly the biggest fight that can be made, given Mayweather's demand for the lion's share of the purse, it likely won't be him standing in the opposite corner come October. Although it's admirable that Shane Mosley is willing to chop off a leg in order to meet Pacquiao at a catchweight, it's highly unlikely that he'll be willing to take a 30% split of the purse, especially coming off of his big win over Antonio Margarito. For a guy who's averaged less than $5 million a fight, Mosley is hoping to finally break double digits and it's doubtful that even a 40% split of the purse will get him that type of money. It might come close, but it also means less money for Pacqiao, who just made a guaranteed $12 million on a 52% split of the purse in his fight with Ricky Hatton.

As of now, Cotto is clearly the frontrunner since he too is promoted by Arum, making it a lot easier to "negotiate" the purse split. Given that Cotto's biggest payday thus far was the $3.2 million he earned in his victory over Mosley, it should be very easy for Arum to ensure that Pacquiao is the one getting mo money, mo money, mo money! A 30% split of the purse is probably all it will take to get Cotto to sign his name on the dotted line (maybe even less). Of course, a lot can change in a short period of time. With three of Pacquiao's top four choices fighting in the next six weeks, it's unclear exactly how everything will unfold. Cotto could lose, Marquez could win or Mayweather could have a change of heart...yeah right! For now, all we can do is play out this waiting game, but by now, it should be clear who the winner will be. If Cotto beats Clottey, get ready for Pacquiao vs. Cotto at a catchweight of 144 pounds (give or take a pound). If the fight is remotely competitive, expect the rematch in February 2010.
[ Follow Ben Thompson on Twitter @fighthype ]