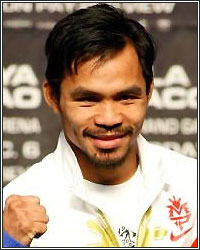 After Miguel Cotto's narrow split-decision victory over Joshua Clottey this past Saturday, pound-for-pound champion Manny Pacquiao licked his chops as he told promoter Bob Arum, "get me Cotto on November 14!" During a recent interview, Arum revealed, "There's no question he wants the fight. And he told me to put the fight together." With those instructions, he immediately began ironing out details of the purse split and the weight at which the Filipinno and Puerto Ricans icons would meet. Golden Boy Promotions, however, quickly took exception to the proposed bout, stating their case that Shane Mosley, widely regarded as the top welterweight in the division, should be next in line as Pacquiao's opponent.

"Cotto has a deep cut; Shane's ready to go. 'Sugar' Shane Mosley is the best fighter in that division. He can punch more, he has more speed. Shane really wants this fight and is willing to make concessions. This is the fight people want," Golden Boy Promotions CEO Richard Schaefer quickly pointed out. Bernard Hopkins, a partner with Golden Boy, would echo those sentiments about Mosley in a separate interview, stating, "Sugar Shane Mosley, who is coming off a big win, that should have catapulted him upwards. Everybody knows he could fight and everybody knows his legacy is there, but when you're not supposed to win and you win impressively, you should become the man to beat."

Both Schaefer and Hopkins are quick to point to Mosley's last fight, a dominant and impressive victory over Antonio Margarito, who holds a victory of his own over Miguel Cotto. What they fail to mention, however, is that just two bouts prior to that, Mosley himself lost a narrow unanimous decision to Cotto. As the brass at Golden Boy Promotions do their best to get Mosley the fight, Arum seems unconcerned with their comments that allude to Pacquiao avoiding their fighter. In fact, he offers nothing but praise for Mosley as Arum readily admits that, although he's an option, he's simply the second choice for Pacquiao, who's clearly in the driver's seat as the best pound-for-pound fighter in the world. "Shane's a terrific fighter, but for now, he's the second choice. If we can't put together a Pacquiao-Cotto fight, we'll reach out to Shane," Arum would tell Lance Pugmire of the Los Angeles Times.

Despite what Golden Boy Promotions may think, it looks like Miguel Cotto will indeed be tapped as Manny Pacquiao's next opponent assuming all goes well in negotiations. Although Pacquiao was originally penciled in for an October 17th date, November 14th is now the new tentative date, which should give Cotto plenty of time to heal from the cut that he suffered in his bout with Clottey. "I hope to put it together this week, to get an agreement on terms," Arum stated. Seeing as how a clash with Pacquiao will earn Miguel Cotto a career high payday, it shouldn't be difficult for Arum to seal the deal and an official announcement should be coming soon.

Now that Mayweather's bout with Marquez has been postponed, it looks like Mosley may be left without a dance partner for the remainder of the year. Don't be surprised if he decides to spend his free time with a different type of dance partner as he patiently waits on the sideline for a big money fight to come his way. I hear Dancing With The Stars is looking for some new contestants...call me crazy, but it wouldn't be the first (or the second) time that we saw a boxer on the show.
[ Follow Ben Thompson on Twitter @fighthype ]