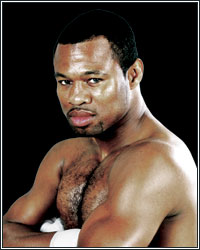 It appears that WBA welterweight champion Shane Mosley has decided to forego the press releases for now in favor of allowing his partners to do their job to help promote his career. Earlier this week, Golden Boy Promotions CEO Richard Schaefer and partner Bernard Hopkins spoke out about Manny Pacquiao's selection of Miguel Cotto over Shane Mosley as his next opponent. Now, the man for which the promotional company was named after, Oscar De La Hoya, is speaking out on Mosley's behalf to help plead his case.

"Shane is the top guy at welterweight and I don't see why or how Cotto can come down in weight. He struggles to make 147. You have Shane wanting to come down a few pounds to accommodate Pacquiao and Cotto not really wanting to do that. Everybody is avoiding Shane. I don't care who you are -- Manny, Miguel Cotto, Floyd Mayweather -- if you want to be the best welterweight, you have to fight Mosley. The biggest fights out there for Pacquiao are Mosley and Floyd Mayweather. There's no doubt," De La Hoya would tell Dan Rafael of ESPN.com in a recent interview.

While it's true that many consider Mosley to be the top dog at welterweight after his total domination of Antonio Margarito, it's interesting that De La Hoya would choose to make those comments when it comes to a potential clash with Manny Pacquiao. Ironically, when it came time to announce Floyd Mayweather's return to the ring, not one word from De La Hoya, Schaefer or Hopkins was ever uttered about Shane Mosley being the best welterweight. In fact, instead of demanding that Mosley get a shot at Mayweather, who also campaigns at welterweight, Golden Boy Promotions was much more eager to stage a showdown with lightweight champion Juan Manuel Marquez.

"Floyd Mayweather vs. Juan Manuel Marquez has the potential to be one of boxing's all-time great fights. Not only are they two boxers destined for the Hall of Fame and two of the greatest technicians of this era, but they also both have a warrior's spirit that comes out when they get tested. I know that they'll push each other to the limit when they step into the ring July 18th," De La Hoya would proclaim back on May 2nd as he proudly announced the bout just hours before Manny Pacquiao was getting set to face Ricky Hatton. Richard Schaefer would add, "Mayweather is clearly making a statement by accepting this challenge to fight the dangerous Marquez in his first fight back. Having seen Floyd perform live in his two previous fights, I know a big challenge brings out the best him."

Where was the sense of urgency back then to help Mosley land the big fight? Perhaps if Oscar would have voiced his opinion then, there would have been no need for Mosley to use a PR firm to try and help him get fights. After all, isn't that what a promoter is for in the first place? Instead of pitting their lightweight champion against Mayweather, maybe they would have been better off giving their welterweight champion the fight he's been asking for since 2007. Being a partner, one would think that Mosley would have first dibs on any big fight opportunities. If he's wondering who to blame for his inability to land a mega-fight, he need look no further than his own promotional company.
[ Follow Ben Thompson on Twitter @fighthype ]