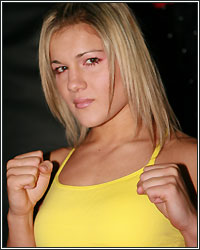 "I think a lot of people don't think girls can fight. And let's be honest, a lot of them can't, but a lot of them can too. Also, I think people don't think you can be feminine and fight. Well, we proved them all wrong…It's about facing your fears and I take pride in not backing out when times get tough," stated female mixed martial artist Felice Herrig as she talked about her future plans, including her participation in the upcoming Reality TV show Ultimate Women Challenge. Check it out!

PC: How have you been doing Felice?

FH: Well, I suppose I can't complain. Well, I could, but no one likes a Debbie Downer, so I'll just be Jolly Felice Navidad.

PC: Your friend Gina Carano has the biggest fight of her career coming up on the 15th against Cris Santos. How do you see the fight going and how do you plan on supporting her?

FH: This is definitely the biggest fight of Gina's career. I will be there with one of my best friends, Kerry Vera. The fight's in San Jose and Kerry's parents live there so we are going to go down and stay with them. We will also be video documenting everything; this should be interesting (laughing). It's hard to make a prediction about the fight. Cyborg is a beast and she lives fighting. I predict a lot of blood in this fight! They are both very good at standup, but Cyborg has the advantage on the ground. I would think her camp is planning on her taking Carano to the ground.

PC: You met Gina during the taping of Fight Girls. What was that experience like for you?

FH: Fight Girls was one of the best moments of my life; not just from a career standpoint. I have the best memories from that show. I got to train with some amazing females and I made lasting friends. I also got to do what I love, which is fight and travel to Thailand. The entire experience was indescribable. The entire time, I was thinking, "Is this really happening to me?"

PC: As a female fighter, what do you feel the biggest misconception was for you guys and do you think Fight Girls helped erase some of those misconceptions?

FH: I think a lot of people don't think girls can fight. And let's be honest, a lot of them can't, but a lot of them can too. Also, I think people don't think you can be feminine and fight. Well, we proved them all wrong (laughing).

PC: You still actively fight Muay Thai, but you've also had a couple of MMA fights. Those split decisions seem to haunt you. What has been the toughest adjustment to mixed martial arts?

FH: Yes, I still fight Muay Thai and I am looking to also find more boxing matches. I'm just a fighter. I love to fight and welcome opportunities that come my way. Most of the opportunities are in MMA, which is why I made the transition. My first two MMA fights, I did lose by way of split decision, but I learned a lot from those fights. First off, I am already a pro and have to fight girls who are pro MMA fighters and they have more MMA experience than me. The first girl I fought was 6-0 in MMA. I swole her eye shut and left without a scratch on me. I also thought the rounds were going to be 3 minutes long and didn't know until I was in the fight that they were 5 minutes. And my second fight, I took a chunk out of my finger 4 weeks before the fight and got stitches and a staff infection, so I couldn't train the entire month, but still had to cut weight. Since I couldn't workout, I pretty much starved myself; most people don't know any of this. But I don't back out of fights. The doctor wasn't even going to let me fight, but I did. I just wasn't myself in the fight, but I do plan on a rematch. I would rather fight and lose and gain experience than not fight at all. It's about facing your fears and I take pride in not backing out when times get tough. I learned that girls want nothing to do with my standup and basically win the fight because of stalling. All these girls did was grab me and pin me against the cage, so I realized I needed to work my wrestling more and I've been doing just that!

PC: Where do you train for MMA and who are some of the people that you are training with?

FH: I continue to work with my long-time boxing coach, Shannon States, on my hands and conditioning. I also train at Midwest Training Center with Clay Guida, Chase Beebe and John Hosman. There are a lot of great fighters at the gym and a lot of up-and-comers. Hosman will be fighting on August 9th in the WEC. Good luck John!

PC: When I spoke to Rick Roufus, he said the money wasn't there to continue to fight Muay Thai. Was that one of the reasons you took up MMA?

FH: I don't fight for the money, but since this is my career, I definitely have to go where the money and opportunities are, and also the exposure. The more I keep myself in the spotlight, the more chances I will get to fight. And I like to fight as much as possible, so yeah, that's a big reason for the move to MMA.

PC: When can we expect to see you in another mixed martial arts fight?

FH: As of right now, I don't have any fights lined up, but I always have tricks up my sleeves (laughing). I'm always working on something. I hope to fight as soon as possible

PC: You should be leaving soon to start taping Ultimate Women Challenge. What can we expect from that show? Is it going to be like The Ultimate Fighter?

FH: Yes, I am doing that show, but I'm not supposed to do any more press on it, so you will all just have to wait and see.

PC: I have to ask you a couple of questions about it and if you can't answer, I understand. Who approached you with the idea to be a part of this show?

FH: I did an interview with Scott Casper from Takedown Radio for my title fight against Kate Meehan. He's the one who actually told the producer, Lyle Howry, about me and the rest is history.

PC: They say it's hard to leave two women in the same room. With a house full of female fighters, are you expecting more drama than TUF has?

FH: No, I don't like drama. We aren't girls who are going on a reality TV show to make asses out of ourselves. We have a different goal in mind. I sure hope there isn't drama. I'm there to train and fight. Hopefully the other girls feel the same and I hope to make lasting friends like I did on Fight Girls.

PC: What will be your role on the show?

FH: Hmmmm, my role? It's a Reality TV show so I guess my role is to be me, which is goofy, crazy, girly….oh and bad ass!

PC: Good luck with all of your endeavors. I appreciate your time. Is there anything you want to say in closing?

FH: Yes, Kerry Vera and I will be video documenting the lead up to the Carano vs. Cyborg fight, which will be posted on chicagosmma.com. Be sure to check it out. And if you want to continue to follow my career, check the site often because I do weekly video blogs (laughing).
[ Follow Percy Crawford on Twitter @MrLouis1ana ]