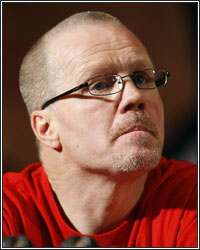 "They've already given up on the PPV audience. They know it's not going to sell. Someone's going to take a bath in that fight," stated world-class trainer Freddie Roach as he shared his thoughts on the upcoming September 19 Mayweather vs. Marquez clash and the recent announcement that the event would be shown in movie theaters across the country. Golden Boy Promotions CEO Richard Schaefer, along with Mayweather Promotions CEO Leonard Ellerbe, made the "major announcement" during a media conference call earlier this week.

Unimpressed with the move, Roach is even less impressed with the matchup between the two fighters. "The styles just don't matchup. Style make fights. People know the sytles of both by nature are counterpunchers," Roach stated. "Marquez has changed his style somewhat; he's more offensive, but still, his best fight is as a counterpuncher. That's why he did so well against Pacquiao because Manny is so aggressive and he's used to attacking so much that his counterpunching style is great for that. When he doesn't have a guy that comes to him, he's not as effective," he added.

Regardless, Roach is still adamant about his desire for Manny Pacquiao to face Mayweather next after his anticipated November 14 clash with Miguel Cotto. If what Roach says about Mayweather is true, it's understandable why he's eager to face the undefeated fighter. "I hear Mayweather is not looking that great," he stated, alluding to the fact that Mayweather has been looking a little rusty in training. On top of that, Mayweather is now dealing with a number of issues outside the ring. "I hear he got in a gun battle somewhere along the lines; his car was abandoned. They say he wasn't involved, but the police did search his house so they think there's some involvement obviously. It's a little chaotic right now," Roach added.

No matter the outcome of the September 19 showdown, Roach is certain that the winner will be Manny Pacquiao's next opponent. "I like Mayweather and I like Marquez and I wish them both the best. I hope the fight turns out really well for them, but I would definitely want the winner," Roach reiterated. While a third fight with Marquez is intriguing, it's the Mayweather fight that everyone is eager to see. Given that all parties are interested in the bout, it looks like the only things standing in the way of making it happen are Juan Manuel Marquez and egos.