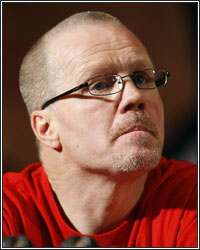 "Tito, his hands are getting better, he's more fluent and he's getting better and better all the time. He's a good athelete. He has no quit in him. I think I made him throw up again yesterday. I think that's the third time he's thrown up after his workout. But I push him hard and he won't quit. He sucks it up and fights back and I like that," stated world-class trainer Freddie Roach as he talked about his recent work with former UFC light heavyweight champion Tito Ortiz. Ortiz has enlisted the services of Roach to help improve his standup skills as he prepares to make his return to the Octagon on November 21 at UFC 106.

Ortiz last fought in May of 2008 when he lost a three-round unanimous decision to current UFC light heavyweight champion Lyoto Machida. Known more for his wrestling and brutal ground-and-pound skills, Ortiz has never been recognized as having the best standup in the sport. Now that he's had successful back surgery and is ready to make another run for the title, Ortiz is looking to improve any holes in his game and he's brought in one of the worlds best boxing trainers to help him.

"The thing is, he's not doing this to become a boxer at all. He just wants to improve with his hands. His main sport is wrestling and he'll shoot on me when he gets in position; he'll shoot as quickly as possible where Andrei Arlovski would like to stand up a little bit more," Roach clarified as he discussed some of the work he's been doing with Ortiz. "So his number one game is the ground of course, but his punches, he's sitting down, he's rotating, his back is no problem; he's had that surgery and feels 100% better. We went 12 rounds on the mitts yesterday, straight through, hard work; he worked his ass off and I like people like that," he added.

Ortiz is one of many mixed martial artists who have sought out Roach to help them improve their standup skills. Over the past couple of years, Roach has worked with the likes of Ortiz, Anderson Silva, Andrei Arlovski, BJ Penn, Rameau Thierry Sokoudjou, Dan Hardy and Gegard Mousasi to name a few. With several months still left before Ortiz is scheduled to make his return, it should be interesting to see what kind of difference Roach can make for the former champion.