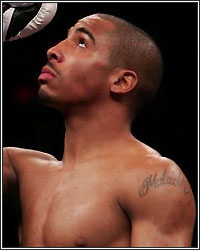 At the midway point of training camp preparation for his first shot at a world title and his first bout in the Super Six World Boxing Classic, undefeated American boxer Andre "S.O.G." Ward and his trainer Virgil Hunter have declared they are on schedule and building momentum toward the November 21st meeting with WBA Super Middleweight Champion Mikkel Kessler at the Oracle Arena in Oakland, CA.

The 25-year old Ward (20-0, 13 KO) who, in Athens in 2004, was the lone -- and most recent -- American to claim Olympic gold, will attempt to wrest the WBA title away from Denmark native Kessler (42-1, 32 KO) in Ward's own hometown while also preventing the Europeans from shutting out American fighters in the first round of this unique tournament being televised by SHOWTIME.

The Super Six World Boxing Classic is a unique concept pitting arguably the top six boxers in the world in the highly-talented 168-pound division in competition based on a points system in a modified, round-robin format. Other participants include WBC World Champion Carl Froch, undefeated World Champion Arthur Abraham, former World Champion Jermain Taylor and 2004 Olympian Andre Dirrell.

The tournament kicked off on October 17th in Europe and Americans Taylor and Dirrell lost to Germany's Abraham and England's Froch, respectively. Abraham accumulated 3 points by virtue of his knockout win in the 12th round, and Frock earned 2 points with his split-decision victory. No stranger to boxing tournament formats or fighting for national pride, Ward seeks to become the sole American to win his first round match in the Super Six World Boxing Classic.

"I definitely feel like I'm back in Greece all over again," Ward shared. "And even though the Americans fought well, unfortunately we were unable to get a victory in the first two fights. I'm definitely inspired to bring America their first victory in the Super Six tournament."

Regarding his training camp, Ward said: "Everything is going according to schedule. We are stepping up the tempo each week. I'm going to do my best to bring that belt back to American soil. It is long overdue for the super middleweight division."

"This has been a very productive camp," Ward's longtime mentor Hunter affirmed. "I see us moving forward with the plan every day. Andre is looking extremely strong and we are building great momentum toward November 21st. We wanted to have this training camp here in Oakland because we really love our gym, King's Gym, and we have full access to all of our resources here in our home gym."

It is commonplace for boxers to leave their families behind for weeks and months to travel and endure training camps in isolated areas to prepare for major fights. However, in Ward's case, his angst is that he moves to a camp very close to home yet doesn't see his young family throughout the training period.

"I miss my family very much but I'm willing to sacrifice as long as I have to," Ward insists. "The sacrifices I'm making now put me in a championship mind for fight night. I'm ready to fight The Giant on November 21st."

For more information on Goossen Tutor Promotions go to www.goossentutor.com.

For more information on the Super Six World Boxing Classic including exclusive videos, photography, expert analysis from Al Bernstein and Steve Farhood, and much more please visit www.WorldBoxingClassic.com.