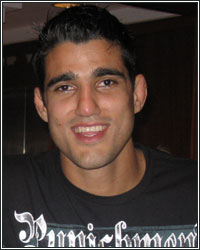 UFC middleweight contender Kendall "Da Spyder" Grove talks about the importance of respect as he discusses his last win against Alan Belcher as well as his upcoming clash with Patrick Cote. Grove discusses the influence that Tito Ortiz and Phil Baroni had on his career and you don't want to miss what he had to say about his training camp and his eagerness to show the world that he's not just a "reality fighter". Check it out.

PC: How are you doing my man?

KG: I'm doing good. I feel good. Getting ready for this fight. I'm excited!

PC: How has your training been going for this fight against Cote?

KG: It's been going good. It's hard. I've got to push myself to let these haters feel what they want. They're saying I'm a reality TV fighter and not a real fighter, so every time I step in that cage, I have to prove them wrong.

PC: How tough is it to have people label you as a reality fighter when you're out working just as hard as the other fighter's in the UFC?

KG: It's very tough. I'm a hard worker regardless of that title. With the title, it forces me to work even harder, that's all. Everybody is just waiting for me to fail so they could be like, "See, I told you he's just a reality fighter." I don't think I'll ever break that title and that makes me train twice as hard.

PC: You are 6'6. How tough is it for you to make the 185 pound division and is it getting tougher or easier as your career goes on?

KG: It used to be tough before I went on the show. When I went on the show, I had good people around me. I was more open to hearing different opinions on how to cut weight and now I've got it down to a science and it's pretty easy for me now. It's all discipline for me. I have a good diet and my father, who is kind of like my manager now, helps me out. He's a good cook and he cooks me good healthy food and that definitely helps me with my weight too. It's just being disciplined and not fucking around and eating all kinds of shit, but I live in Vegas and it's the summer, I'll lose 5 pounds just driving to the gym because I don't have no AC, you know? It's kind of easier now because it's summer time here in Vegas. I'll go to practice and nearly lose 8 pounds every day at practice.

PC: What is your walk around weight?

KG: I walk around about 195 or 200 now, but when its cooler, I walk around 205.

PC: I thought you walked around a little heavier than that actually.

KG: Fuck, before the show I walked around 230. Then again though, I ate like a dumb fuck. I used to cut weight stupid back then man. I used to just starve myself. I'm more educated and more mature as a fighter in every aspect; fighting and cutting weight. Everybody's body is different and once you get your body down to a science, it's easy.

PC: In your last fight against Alan Belcher, you finished him with a choke. How do you feel about your last performance?

KG: I feel good. It shows that hard work pays off. I trained my ass off for that fight. I proved to everybody, especially him, that I don't ask for much. I asked for a little respect and when you don't give it to me, I'll take it. I made that a point in that fight because he didn't give me no respect. The second he woke up from being unconscious, he walked up to me and said, "I got much respect for you." That's how it's supposed to be right there. That's all I want. I respect everyone that steps into that cage man; I just want a little in return.

PC: You've improved your fight game so much since the show. What do you attribute that to?

KG: I give a lot of it to Tito. He pushed me on the show. He taught me how to train like a fighter that trains on the big show. I was fighting little shows and I was doing just enough to get by on the little shows and he took me in and I would like to thank him and my man Phil Baroni who gave me a shot when I was a nothing, a nobody. I wasn't even on the radar. I decided to fight and Phil was the one that told me, "Hey man, you have potential, start fighting." He didn't have to do that, you know what I mean? I was a nobody off the street and he was the one that told me I should start fighting because he could see me going far in this sport. If it wasn't for that guy, I wouldn't be here today and if it wasn't for Tito, I wouldn't have the work ethic and tools that I have and be in Ultimate Fighting man.

PC: Do you ever think about if Ken Shamrock would've been your coach instead of Tito?

KG: I really don't know. I went on that show ready to fight the first day. I used to live with Joe Stevenson and he helped me get on the show. He recommended me and he prepared me to be on that show. He was like, "I'm going to get you ready because you might fight the first day you're on that show." I went on that show prepared and ready to go and my work ethic was good. It wasn't great, like how Tito pushed it to. If the question was whether or not I would be where I'm at right now if I was on Ken Shamrock's team? I'm pretty sure I wouldn't be where I'm at right now if I was on that team.

PC: What do you think of Patrick Cote as a fighter?

KG: I think he's a great fighter. I'm going to tell you, I'm not just saying that. I think he's awesome. I looked up to him when he fought Tito and I still look up to him. I'm honored to fight the guy; he's a vet. He fought Tito to a distance and that's hard. He went the distance and dropped him once. I think it's going to be a good fight for me; a tough fight. I never underestimate anybody that I step into that cage with. If I don't play my cards right, this fool is going to knock my chin into the 3rd row. I'm excited to fight him and with me, I can honestly say, I don't give a fuck if I win or lose. I'm just going to go out there and put on a good show for the fans and that's how I always see them bringing me back. I like to go out there and put on a show; that's my mentality. It's been working for me.

STAY TUNED FOR PART 2...
[ Follow Percy Crawford on Twitter @MrFighthype ]