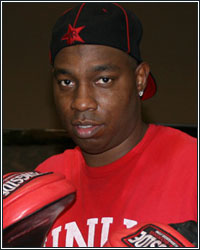 "I'm on the inside of the business. I train fighters. I live in Vegas, where Top Rank is and where Golden Boy does a lot of their promotions. I'm on the inside and I get to see these things. I get to see these guys train. I know a lot of the people who put together the contracts, so I know what's going on and a lot of other people are speculating what's going on… I know New Orleans and some other places are going to put in some serious bids, but at the end of the day, I would be surprised if it's not in Vegas," stated renowned MMA and boxing trainer Ron Frazier as he shared his thoughts on the highly-anticipated clash between Floyd Mayweather Jr. and Manny Pacquiao. Frazier, who trains a number of MMA fighters and boxers at Xtreme Couture in Las Vegas, had a lot to say about the venue, the weight, the role that the 8-ounce gloves will play and much more. Check it out!

PC: Ron, I know you are a huge Roy Jones fan. What did you think of the fight and would you like to see him walk away from the game?

RF: I thought Roy should have been retired for awhile now. When he can't beat guys like Danny Green, it's time to put them away. He's not still doing it because he needs the money or anything like that. I know Roy a little bit and it's more because that's what he does. He's a fighter and he doesn't have anything left in his life that fulfills him like fighting does. But since he reached the pinnacle of his career, and that's fighting John Ruiz, he hasn't been the same guy. When he went to fight John Ruiz, he weighed in at 199 pounds with 4 percent body fat. Subsequently, there were talks of him fighting Evander Holyfield or Mike Tyson, so he stayed heavy and stayed around 200 pounds with that low body fat. And then all of a sudden, the Antonio Tarver fight came and he had to cut 25 pounds of basically muscle. And if anybody knows anything about fitness, they know that it just ruins your body to do that. He got through that first fight and in a very candid interview before the first fight with Tarver, Larry Merchant was talking to him and he asked Roy, "On a scale of 1 to 10, how do you feel?" Roy said he felt like a 6. He was very sunk in and drawn and he won that fight; he barely won that fight. That should have been it for him. He had nothing left to prove and then subsequently, he fought Tarver again and got knocked out. The thing that happens is once you get your trigger pulled, it's easier to happen again. He had suffered a devastating knockout in that bout and then he came back against Johnson, in what I felt was too short of a time period following his first knockout loss, and he just wasn't the same guy.

His legacy, unfortunately, will be tarnished, but not because of people beating him in his prime. Roy did things his way so a lot of the guys who control the media and write about history don't like Roy because Roy was his own man, so that kind of tarnished what he did. But from the beginning of his career until the point where he beat John Ruiz, he was the baddest man on the planet; he was pound-for-pound the best fighter of his era. People will say he didn't fight anybody, but a lot of the guys Roy beat only lost when they fought one another. Unfortunately for him, and it's not his fault, it's a lot like what Larry Holmes went through. There was nobody for him to fight. The only fight that should have happened and didn't was the Nigel Benn bout. He beat Hopkins and Toney and everybody else that was there. People will say he never fought Darius Michalczewski, but he didn't want to come out of Germany and after what happened to him in the Olympics in South Korea, I don't blame him for not going to Germany because he was the number 1 guy in the division, so why should he have to travel. Darius should have had to come over here. He never was willing to do that, so they never fought and I didn't think it was a big deal. At this point, he should hang it up. There is nothing left to prove. He's got all the money, he's a 4-time champion, he is an all-time great and he will go down as the best in his era, which is from 1988 to 2001, and retire at that and let it go, but don't keep fighting and losing to guys like Danny Green; that's embarrassing.

PC: So you have no interest in a rematch with Hopkins?

RF: Bernard has been trying to angle to get Roy back in the ring and it's all about a payday, but Bernard has handled it all wrong. If he wanted Roy back in the ring back when they were both in their primes, after Bernard beat Felix Trinidad, if he wanted him, alls he had to do was say, "Okay, he beat me the first time, so let's go 60/40 and we fight." But he kept trying to come up on 50/50 and Roy was like, "I beat you. Why should I give you equal money?" Bernard has been a great champion as well, but I take him to task too. If you look at his 20 title defenses, who did he beat? The best 2 guys on his ledger are Felix Trinidad and Oscar De La Hoya, two guys who were naturally smaller men that performed better at a lower weight. Bernard and the streak was awesome, but at the end of the day, it's the same thing I have been saying about Pacquiao. You put these guys up against the all-time greats and they don't stack up; styles make fights. If Hopkins fought in the 80's, does he beat a Marvin Hagler? No! He's crafty and he's tough, so he's going to be in those fights and Bernard has a great chin, but he's not going to beat those guys. He's not going to beat a Ray Leonard or Tommy Hearns. He will make it difficult, but he's not going to beat those guys. But Bernard is a guy who did it his way and obviously doesn't mind saying what's on his mind and I have always admired that about him. But I didn't want to see this fight 16 years after they should have had the rematch; it didn't make any sense.

PC: We appear to finally be getting the Mayweather-Pacquiao fight. Do you truly believe there is a chance of this fight not taking place in Vegas? I'm sure you are pumped, so maybe some of the fans can get off of your back.

RF: It doesn't bother me. It's kind of funny to me because fans are passionate and I understand that. I've been around this game for a long time. I am a former professional athlete and I train professional fighters, but the fact that the fans think they know more than the guys that are in the business is kind of funny to me. They have tunnel vision. In the interview, I said nothing bad about Pacquiao at all. I said he is a great fighter, but all of a sudden, because I didn't say he was the best fighter ever, I hate him? I don't hate him. I just don't think he is a top 15 fighter. Is he a great fighter? Yes! Will he go down as a Hall-of-Fame fighter? Yes! Will he go down as a top 15 of all time? In my opinion, no! But people can say what they want; it doesn't bother me because at the end of the day, I'm on the inside of the business. I train fighters. I live in Vegas, where Top Rank is and where Golden Boy does a lot of their promotions. I'm on the inside and I get to see these things.

I get to see these guys train. I know a lot of the people who put together the contracts, so I know what's going on and a lot of other people are speculating what's going on. It doesn't bother me about the comments. I just think some of them are funny. They had guys in there getting personal and racist and that doesn't bother me either because at the end of the day, people know where my gym is located and if they have a problem or a personal bone to pick, they can always go there and see me face to face. The difference between me and them is that I put it out there that Floyd will beat Manny with my name on it and if he doesn't, I will come back and give Manny all of the props in the world. But they appear anonymous and they get to take shots at you anonymously under some screen name like they are a big man and its like, "Dude, that is not going to hurt my feelings." I'm way beyond that, but it's fun because I like the passion of the fans. They can say what they want, it's not going to bother me either way, just like it doesn't bother you. It's just fine and I had some free time on my hands so I decided to go back and forth with them in the comments section a little bit. I saw towards the end where we got a little support and people understanding that I didn't hate on the guy, but I think one of the funniest ones was when I was breaking it down as far as all of the fighters I thought he would lose to and he was like, "I don't know who those guys are, but I know if Manny fought them, he would beat them!" I was like, "That's classic right there because alls you know is Manny Pacquiao when it comes to boxing." He doesn't even care to know the history of the game, but one love; it's all love; I ain't mad at them for being by their guy.

As far as the fight goes, first off, I would be shocked if this fight comes out of Vegas. Just the fact that there is a vacant lot here across from the Wynn and they want to go old school here and build a temporary structure that can hold 30,000 people, the site fee would be ridiculous and I'm sure Vegas is willing to come out of pocket for it. Both of those guys have fought here and travel well here, so I think it's going to be in Vegas. I know New Orleans and some other places are going to put in some serious bids, but at the end of the day, I would be surprised if it's not in Vegas.

PC: What type of fight are you expecting between those 2 guys?

RF: If you look at Floyd, he is a defensive fighter that looks to break down his opponents. Manny is very explosive and he's aggressive, but that's what Floyd wants him to be. At the end of the day, because there are no weight clauses in this fight, they are fighting at 147 and from what I understand, there are no rehydration clauses in this fight as well, like they had in some of the other Manny Pacquiao fights. So Floyd is the bigger, stronger guy. I don't know why people think he has a weak chin all of a sudden. I've seen this guy in the gym sparring with junior middleweights and middleweights that are some bangers and he's handling their punches. It's not like he's ever been off of his feet. And if you want to give Zab Judah a knockdown for their fight, okay, I will give you that, but that doesn't mean he has a weak chin. This guy has never been stopped in a fight. He's never had a standing 8. The only official knockdown he's had is when he broke his hand in a fight and his glove touched the canvas. He has a sturdy chin and if Manny can come in and walk through his defense and knock him out, more power to him, but I just don't think it's going to happen. I think Floyd is a better defensive fighter than anybody he has ever faced; he is a counterpuncher and a good boxer and if you look at the first Erik Morales fight and his fights with Marquez, those are the kind of fighters that gives Pacquiao trouble. I suspect Mayweather is going to give him trouble. What I like about this fight is that there is no weight clause, so Bob Arum is confident that Pacquiao is a full-fledged welterweight now and that he can walk through anything Floyd has to offer them, but Freddie Roach is a little worried about the time. He wanted the fight in May and not March 13th. That's a little interesting dynamic going on right there.

PC: And you have been around this game for a long time. Pacquiao is the puncher so obviously he wants 8-ounce gloves and Mayweather is the boxer so he wants 10-ounce gloves. How much of a difference does those 2 ounces make?

RF: Those 2 ounces could make a big difference, especially with the Reyes gloves. The reason why everybody wants the Reyes gloves is because they are kind of like MMA gloves, not a lot of padding around the knuckles, and that's why they are called "punchers gloves" because you basically only feel the wraps and the tape. Obviously, Manny being the explosive puncher that he is, he wants those and Floyd is looking for advantages in negotiations so he will try to say, "Hey, we are at 147. The rules of Nevada says that 147 go with 10-ounce gloves." And a lot of that is posturing in negotiating stuff and it really may not play a factor in a big way at all. Sometimes it's mental. Floyd has fought in 8-ounce gloves before, because he fought under 147 before, so that's not going to be a real big issue. He fought Diego Corrales in 8-ounce gloves and Diego was one of the most fearsome punchers that you could find at 130 at the time he fought him, so at the end of the day, I don't think that's going to be a major factor. I think it's more posturing than anything else. It's funny because people are like, "Floyd Mayweather is a coward because he didn't come in at the weight that he signed to fight Marquez at." He wasn't going to deplete himself, but nobody ever said anything about Manny telling Oscar and Cotto that they couldn't rehydrate to more than 147 pounds. They came in as depleted fighters. But he gets a pass for that and if Floyd does it, he's a chicken and a coward. Why is it good for one and not for the other? I will call every fighter on to the carpet. It doesn't matter to me. I think Mayweather is a better fighter, but I think Pacquiao has had a more dynamic career! I think they are both all-time greats, but I wouldn't put either one of them in my top 30.

PC: Hey man, I always appreciate your honesty. I know you have Johny Hendricks out in Memphis this weekend at UFC 107, so good luck with him. Anything you want to say in closing my man?

RF: Yeah, I got a fight with Johny Hendricks, so we're getting ready to go and I will be away from Rebecca and Samara, but my family is what keeps me going. I'm just striving to be the best trainer I can be. That's all I'm trying to do and you know people can hate if they want to, but it's all love where I'm at.
[ Follow Percy Crawford on Twitter @MrLouis1ana ]