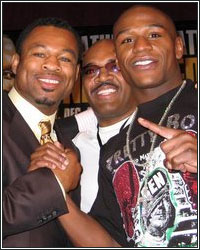 "All of the deal points have been agreed to," stated Leonard Ellerbe, CEO of Mayweather Promotions, as he echoed recent comments made by Golden Boy Promotions CEO Richard Schaefer regarding the intriguing and long-awaited showdown between undefeated Floyd Mayweather Jr. and WBA welterweight champion Shane Mosley. Contracts have yet to be signed by either fighter, but representatives of both camps are now confirming that both Mayweather and Mosley have agreed to all terms, including purse split, weight, gloves and random blood testing, and a formal announcement can be expected next week.

"We still have to put pen to paper, but everything is agreed to. It's with the lawyers," Ellerbe would tell Dan Rafael of ESPN.com earlier today. "Shane is a great fighter, one of the best of his era, and so is Floyd. It's going to be a great fight. It's a fight fans have wanted to see for a long time." The bout will take place on May 1st at the MGM Grand in Las Vegas, Nevada and will be televised on HBO Pay-Per-View.

Although Ellerbe and Schaefer are now making the rounds to inform the various media outlets, the news should come as no suprise to FightHype readers. Shortly after WBC welterweight champion Andre Berto decided to withdraw from his title unification with Mosley, several sources informed us that the bout was essentially a done deal. In fact, the main hurdle that prevented the megafight between Mayweather and Pacquiao was the first hurdle that Mosley cleared with ease, immediately agreeing to Mayweather's request for Olympic-style drug testing.

With that obstacle out of the way, everything else fell right into place as Mosley was more than willing to take a smaller purse (thus far, I've heard numbers ranging between 30-40%) in exchange for an opportunity to prove that he's truly the best fighter in the world. With both fighters campaigning as welterweights, the bout will naturally take place at 147 pounds for Mosley's WBA welterweight title. Essentially, this fight was just as easy to make as Pacquiao vs. Clottey, but both sides thought it would be best to hold off on an official announcement to avoid looking like they were taking advantage of the opportunity that Berto provided them by pulling out of his scheduled bout with Mosley.

We told you so!

January 18, 2010 - MAYWEATHER MISSING IN ACTION; LIKELY RETURN IN MAY AGAINST MOSLEY

January 18, 2010 - BERTO'S WITHDRAWAL FREES MOSLEY TO FACE MAYWEATHER, BUT WHEN?

January 18, 2010 - PACQUIAO-CLOTTEY BACKED BY HBO; MAYWEATHER-MOSLEY MOVING TO MAY

January 22, 2010 - MAYWEATHER-MOSLEY DONE DEAL FOR MAY 1?

January 22, 2010 - LEONARD ELLERBE: "THIS IS A FIGHT FLOYD HAS WANTED FOR OVER 10 YEARS"

January 28, 2010 - SHHHH! MAYWEATHER-MOSLEY DONE, JUST DON'T TELL ANYONE YET!
[ Follow Ben Thompson on Twitter @fighthype ]