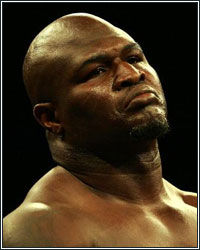 Future Hall of Famer and IBA heavyweight champion James "Lights Out" Toney recently contacted FightHype.com to give us an update on his future plans in both boxing and mixed martial arts. Evidently, he's having a difficult time finding a legitimate opponent in both sports, so the always outspoken Toney had some choice words for UFC President Dana White as well as his own promoter, Dan Goosen. "Dana White is a straight up ho! He makes me a 5-fight offer for chump change and said I can't box anymore if I accept it. He must have lost his damn mind," stated Toney, who wasn't done there as he also shared his strong opinion that White is not representing the sport of mixed martial arts correctly. "Dana White is embarrassing MMA. He says all this shit about how a boxer wouldn't last against a MMA fighter and now he's fucking scared to put his guys in there with me. I would beat all of their asses," Toney continued.

Toney, a veteran of over 80 professional boxing fights, believes that now, he's being avoided in MMA as well as his own sport. "I'm the best of both worlds. Anyone in either sport that wants to come see me, we can do this," he stated, making it clear that he's waiting for anyone to step up to the plate. "And if any MMA fighter has a problem with what I'm saying they could fucking come see me. I ain't hard to find. I have been to their shows. I wish one of them would run up on me! I am getting in great shape and eventually they gonna have to see me."

After a potential title shot fell through when WBC heavyweight champion Vitali Klitschko and his adviser, Shelly Finkel, had a change of heart, Toney also had choice words for his own promoter, Dan Goossen. "Dan Goosen wants to call me a legend and this that and the other, but then he comes to me with these bullshit ass deals. I love him like family and if he cares about me like he says, he wouldn't come at me with these short money deals. He offered me a fight with Tony Thompson on ESPN for little to nothing," an irritated Toney revealed. "If you feel I'm a legend and Hall of Famer, treat me as such and stop making these bullshit offers because I'm not the motherfucking one! You not going to do me like that!"

Toney's frustrations are evident and understandable. The last time he was in the ring was September of last year, when he made quick work of Matthew Greer with a 2nd round TKO victory. It's truly unfortunate that "Lights Out" is having a difficult time getting a fight, especially considering that many fans say he's the spark that the heavyweight division is lacking. Hell, as if a fight wasn't hard enough to find, at the request of Benard Hopkins, Toney was barred from attending the recent press conference "debate" for the Hopkins-Jones pay-per-view, which can probably use all of the publicity and attention it can get!
[ Follow Percy Crawford on Twitter @MrFighthype ]