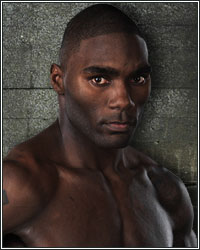 Although a knee injury forced UFC welterweight Anthony Johnson to pull out of his scheduled bout with John Howard, it hasn't stop him from keeping up with the war of words. Johnson, who was originally scheduled to face Howard this past weekend during the UFC's debut card on VERSUS, was not impressed with Howard's 1st round KO victory over Daniel Roberts. "Howard ain't got no standup at all. He's lucky Roberts wasn't stronger or he probably would have gotten submitted," he remarked as he talked about the performance.

The war of words between both fighters first began when Johnson felt that Howard pulled out of a bout with him for no reason after initially agreeing to it. Johnson would go on the offensive, calling Howard names like "Snaggletooth" and offering to give him free dental work. Howard responded by mocking his Johnson's nickname, "Rumble", instead referring to him as "Crumble" and implying that he folds when he's under pressure. Shortly afterwards, the UFC officially made the fight a reality.

Still eager to step inside the Octagon with Howard, Johnson had a stern warning for Howard, stating, "Howard is soft; he doesn't belong in the UFC. I will be glad to show him this if he's my next opponent. But congratulations on your win. If you fight me like that, you won't survive. You better work on that standup buddy!"

As Johnson continues to rehab his injured knee, let's hope that this grudge match doesn't get pushed to the side. If the fight does indeed eventually become a reality, for some reason, I'm thinking the judges can stay home for this one.
[ Follow Percy Crawford on Twitter @MrFighthype ]