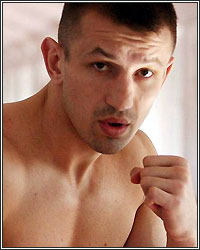 Following Kelly Pavlik's bloody beating at the hands of Sergio Martinez last April, the former undisputed middleweight king made it clear that he's heading up to 168, most likely to challenge IBF champion Lucian Bute in a fight that HBO has been hoping to put together for nearly a year. While that fight is nowhere as appealing as it would have been had Pavlik defeated Martinez, it's just serving the purpose to give Bute a strong US debut at the expense of the former middleweight champion. Harsh as it sounds, I can't think of anybody that would pick Pavlik to stay upright against the stronger, faster and slicker fighter.

Adamek-Holyfield: The Nail In The Coffin

It was reported earlier this week that the camps of both two-division champion Tomasz Adamek and former four-time heavyweight champion Evander Holyfield are discussing a possible fight for late summer, possibly in New Jersey. I really hope that isn't true. This is only a resume booster fighter for Adamek and it won't be aired on any live networks because of the steepness of Holyfield through the years. Here are a few other "safety first" suggestions for Adamek if he's looking for a stay busy fight: Kevin Johnson, Juan Carlos Gomez, Fres Oquendo or Eddie Chambers. Just anybody but Holyfield!

Soto To Test the Waters At 140

Humberto Soto has scrapped on through and through, winning titles and keeping his name in line for big fights. He's going to try to continue that momentum as he heads to boxing's busiest division. Soto has fought three times at lightweight, beating former champions David Diaz and Jesus Chavez in his most noticeable victories, but would rather move up in weight instead of fighting his mandatory Anthony Peterson. While I wish him the best of luck, it's easy to say that he'll have just as much luck at 140 as he would trying to defend his title against Peterson, and that's not a lot.

Potshot Picks

Rafael Marquez vs. Israel Vazquez
Looking at this fight, it's hard to gauge really what these two have left after killing each other for the better half of two years. Marquez has always been the more technical of the two fighters, while Vazquez the grittier. The only super physical fights that Marquez has had in his career were against Vazquez. I can't say the same for Vazquez. His odometer is high and the check engine light came on after his near-disaster comeback against Angel Priolo last October. Give me Marquez by early TKO.

Abner Mares vs. Yonnhy Perez
Nobody gave Perez too much of a thought when he beat Jospeh Agbeko last year and I don't think they're giving him too much credit against Mares. While Mares is fast and throws a lot of punches, Perez is stronger and probably won't be discouraged by Abner's activity. It's a close call, but I'm going to favor Perez to win by decision.

Potshot Picks: 13-2...Ya'll need to take me to Vegas!

Parting Shots

Even though negotiations between Floyd Mayweather and Manny Pacquiao were to "resume" last week, we heard absolutely nothing. It comes as no surprise to me because I'm 100% certain Pacquiao has to finish his ready-to-order Top Rank fighters this Fall when he fights Margarito, leaving Mayweather in the rear view mirror once again. Mayweather himself will also be exploring potential bouts in the meantime.

My question to you, loyal fans, is that considering what has changed since negotiations fell apart early in the year, resulting in Pacquiao-Clottey and Mayweather-Mosley, who do YOU consider to be pound-for-pound the best fighter in boxing? Should it be Pacquiao, who's blaze of activity through the years has propelled him from superstar to legend? Or is it Mayweather, the returning king?

Send all your responses back to dhoward@fighthype.com and they will all be answered with feedback of my own, of course, on next week's Pillar to Post Boxing radio show (www.blogtalkradio.com/dannyhoward). Also, be sure to check out this week's show as well as archived episodes. I'll see you all on the air next week!