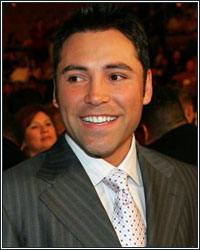 "I spoke to Oscar yesterday [Tuesday] and I wanted to know where that came from and he said that he was misquoted," stated Golden Boy Promotions CEO Richard Schaefer, who suggested that Oscar De La Hoya was misquoted when he was asked about the current status of negotiations for a mega-fight between Floyd Mayweather and Manny Pacquiao. Last week, during a televised conversation on the Spanish sport show República Deportiva, Oscar De La Hoya hinted that the two sides were extremely close to making the biggest fight in boxing a reality. According to Schaefer, however, the meaning of those comments were somehow lost in translation. "I saw those quotes as well, and I had no idea what Oscar was talking about. And I called him up and asked him about them and he said that he was misquoted," Schaefer explained to Lem Satterfield of AOL FanHouse.

Although De La Hoya's interview was in Spanish, the few interpreters that FightHype.com spoke to -- one Puerto Rican, one Mexican and another Dominican -- all agree that the translation of his comments are indeed accurate. "These negotiations have been real difficult for various reasons, but we're really close to finalizing the contracts, even though they've been complicated," he would say with a smile. In De La Hoya's defense, he did remind the viewing audience that he wasn't at liberty to talk about negotiations, however, on several occassions, he also stressed that they were very close to making the mega-bout a reality. "I think that both fighters realize that this fight has to happen because the fans want this fight and today it is biggest fight in boxing right now. It's a huge fight and I think that we're really, really close to finalizing the negotiations for the contract," he added. "Today, I can't really talk about the negotations, but we're really close."

It's pretty difficult to misquote a video interview when you have interpreters watching it over and over again, meticulously translating every word. Perhaps De La Hoya speaks a dialect of Spanish that we're unaware of, but according to our translators, who all watched the video interview firsthand, his comments were quoted correctly. Perhaps Schaefer can review the video interview himself, which can be found at http://univision.com/content/videoplayer.jhtml?cid=2427874, to determine if De La Hoya was really misquoted, if he simply misspoke, or if he really did let the cat out of the bag.
[ Follow Ben Thompson on Twitter @fighthype ]