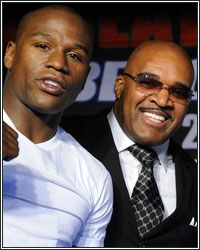 "I stand 100% behind my statement. How the hell can you have a negotiation when the principal himself says he's not even thinking about boxing at this particular time and he's the one calling the shots and is his own boss? This whole thing has been blown way out of proportion and I'm not going to go back and forth with this. I know for a fact that no negotiations have taken place and it's clear to me that those that made those statements are not clear on what the term 'negotiation' means," stated Mayweather Promotions CEO Leonard Ellerbe when informed about the recent statement released by HBO Sports president Ross Greenburg regarding alleged negotiations for a mega-fight between Floyd Mayweather and Manny Pacquiao. After Pacquiao's promoter, Bob Arum, revealed that Greenburg was acting as a mediator while negotiating with Mayweather's manager, Al Haymon, Ellerbe categorically denied that any negotiations had ever taken place in the first place. Golden Boy Promotions CEO Richard Schaefer, as well as Oscar De La Hoya, would back the statement made by Ellerbe, also denying that negotiations took place.

"Making inquiries about what Floyd's intentions are is not a negotiation. Floyd made it perfectly clear the night of the Mosley fight, at the post-fight presser, again in June, and again in July that he's not thinking about boxing at this particular time. Floyd said he wanted to take some time off and spend it with his family. If Floyd is saying this, then who are you negotiating with," Ellerbe continued, explaining that although a conversation may have taken place between Arum and Greenburg, there was never a back and forth negotiation process between both sides because Mayweather himself was not entertaining discussions.

"How can you have a negotiation when Floyd has made it very clear that he's not interested in boxing and he's not thinking about boxing at this particular time. Why would any of us waste our time going back and forth with anything when Floyd has made it perfectly clear," Ellerbe added. "Trust me, when the time is right and Floyd is ready to start talking about boxing again, I'll be the first to know."
[ Follow Ben Thompson on Twitter @fighthype ]