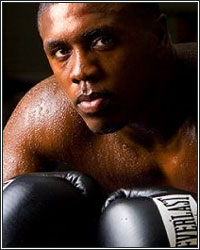 In a very unsurprising move, HBO is shelling out $1.25 million for WBC champion Andre Berto's fight against unheralded Freddy Hernandez as the co-feature for Juan Manuel Marquez versus Michael Katsidis. Berto must be happy to know that he can make a ton of cash despite not being able to draw fans to arenas or ratings to the network. While that's great for him, the boxing public, who have been waiting to see Berto take on a live opponent, will have to wait even longer. After all, why take the short money on a hard fight when you can make a fortune on a hand-picked opponent?

At least Berto's promoter, Lou DiBella, can take solace in the fact that his fighters are at least getting network time and is in a great position to make big bucks for his promotional firm. DiBella also promotes Sergio Martinez, who will be facing off against Paul Williams one week prior. Should Berto and Martinez win, it'll be hard to make a big fight from 147 to 160 without giving him a call.

WBC Title Up For Grabs For Froch-Abraham

The third round of the Super Six tournament was going to have title implications for the Andre Ward-Andre Dirrell fight, but with that falling through due to Dirrells withdrawal from the tournament due to injury, the WBC has decided to instead mandate the upcoming Carl Froch-Arthur Abraham bout for the title left vacant by Mikkel Kessler. I need not remind you that both Froch and Abraham lost their last fights and thatDirrell is the current number one contender, according to their own rankings, but the WBC doesn't seem to mind rational or reason as long as sanctioning fees can be imposed.

Nevertheless, Froch-Abraham is going to be a fantastic fight and regardless of the lunacy for a title being up for grabs, it should produce a great sub-plot heading into the semi-final rounds. At least the positive thing here is that by the end of the tournament, one fighter will hold two of the belts within the division and drive the point home as to who is the best fighter at Super Middleweight.

Dawson-Cloud, Donaire-Montiel Possible For Early 2011

Two high-profile fights are being discussed next year to help open up HBOs 2011, and if they actually are made, it'll be a hell of a first couple of months for the network. One of the fights that is being tossed around is Chad Dawson, returning from his disappointing loss to Jean Pascal, taking on IBF Light Heavyweight champion Tavoris Cloud in what would be a scintillating fight between the division's top fighters. The other, less likely fight to happen, is a meeting between Nonito Donaire and Fernando Montiel.

Should Cloud-Dawson and Donaire-Montiel get made, it'll be a great way to start off the year. With Timothy Bradley and Devon Alexander's big fight more than likely not happening in January, these two bouts would start off HBOs year with something it has been missing since the beginning of this one: competitive fights.