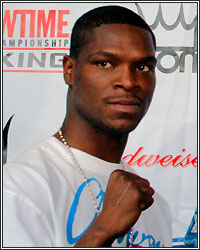 On August 7, 2010, former IBF jr. middleweight champion Cory Spinks lost his title when he was stopped in the 5th round by Cornelius Bundrage in front of his hometown fans at the Scottrade Center in St. Louis, Missouri. Not long after that, Spinks was quietly removed from the IBF's jr. middleweight rankings, but mysteriously added to their middleweight rankings as the 6th-ranked contender. At the time, it was unclear as to why the IBF would add Spinks so quickly to their middleweight rankings having just come off of a devastating loss at jr. middleweight, especially considering that he hadn't fought since losing or made any type of indication that he would be moving up in weight. FightHype.com has learned, however, that promoter Don King, who has a history of "working closely" with the IBF, may have gotten Spinks into a position to challenge current champion Sebastian Sylvester.

Sylvester is fresh off of his own lopsided victory over Mahir Oral, who he soundly defeated back in October, dropping the challenger 3 times en route to a unanimous decision. Although the IBF's #1 and #2 middleweight contender spots are not rated, Daniel Geale (24-1, 15 KOs) and Roman Karmazin (40-4-2, 26 KOs) faced off in a title eliminator, just one day after Sylvester's successful defense, to determine the next mandatory challenger. After a fast-paced fight, it was the younger, stronger Geale who came out on top, stopping Karmazin in the 12th round with just 30 seconds left to go in the fight.

According to reports in Germany, Sylvester, who earned a tougher-than-expected draw against Karmazin earlier this year, isn't quite so eager to step right back into another mandatory defense, particularly against Geale, who looks like a legitimate threat to take the title. Word on the street is that Sylvester's team is hoping to make a big money fight sooner rather than later. Enter Don King and Cory Spinks. Evidently, Spinks will be returning to the middleweight division in February and, according to sources, he's been promised a title shot. "Got a fight in February. Not sure who I am fighting; maybe Felix Sturm," Spinks himself would tell FightHype's own Elvers Brooks in a recent interview that will soon be appearing on the site.

Although Spinks suggested a possible fight with WBA middleweight champion Felix Sturm, our sources tell us that it will instead be Sylvester, particularly considering Don King's rich history with the IBF and the fact that Spinks was added to their top 10 ranking for no rhyme or reason. If all goes according to plan, expect Geale to happily take some step-aside money in favor of letting Spinks have a crack at the title. Naturally, the bout will likely take place in Sylvester's native Germany.

Apparently, it's not only in America.
[ Follow Ben Thompson on Twitter @fighthype ]