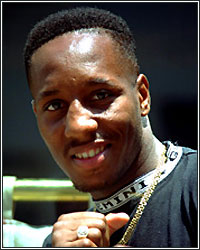 FightHype.com takes you back in time to revisit all the action of fights gone by. In this unique series, get a firsthand look at what it's like to experience the physical, mental and emotional ups and downs of a professional prizefight. Find out what the fighters were going through before, during and after the fights as they relive some of the highlights of their most memorable bouts. On November 22, 1996, former world champion Junior Jones faced off against a young, undefeated, baby-faced assassin by the name of Marco Antonio Barrera, who at the time was on a 43-fight win streak and looking to defend his WBO super bantamweight title for the 9th time. Check out how Jones remembers what turned out to be one of the most definitive moments of his career.

TRAINING CAMP

I was in Houston for training camp with Evander Holyfield and he was preparing for Tyson. Training camp went well, though, because I was confident throughout the entire camp. I told my trainers that I was going to stop him in 5 rounds, so that just kind of illustrates where my confidence was during my training. I just remember using a lot of different sparring partners for that camp; I used a lot of different sparring partners.

PRE-FIGHT

Believe it or not, I could sense at the pre-fight press conference that he was scared to death of me. I knew just from the look in his eyes that he was a scared fighter, and that I had an edge going into the fight. They wanted us to do a staredown with our shirts off and sure enough, I looked into his eyes again and saw fear. I truly believe he was scared of me. The promotion was very clean though. He didn't talk any trash; he was very kosher and very cool, so I was the same way.

THE FIGHT

Believe it or not, going into the fight, I knew I would give him trouble because I had a long jab and good power. I basically just worked behind the jab and did everything that I wanted to do behind a stiff jab. After the 2nd round, going into the 3rd, I pretty much knew that I had him where I wanted him because my jab was working so well and the right hand was starting to find a home, so I knew it was only a matter of time before I was going to knock him out. When I dropped him with that shot in the 5th, I knew for a fact he was out of it. He got up and my thoughts were just to throw punches. I wasn't even really concerned with where I was placing them, but to just keep firing away with shots. Everything I had, I just threw it.

POST- FIGHT

I knew for a fact that I would have to fight him again, but I just didn't expect it to be so fast. I thought that maybe he would take a little time off, but it happened back to back. We fought again 5 months later and I kind of knew that may have been too soon for him to get back in there with me. It was a lot of confusion as to why he lost the first fight, so I came into the rematch really trying to prove a point, and that's what I did. My style was just all wrong for Barrera. I was taller than he was, and I had a good jab, and I had pretty decent power that could match his power. It was a thing where my jab was long and I could fight on the inside a little bit, and that was his game, so once I displayed that I could fight on the inside with him, as well as the outside, he pretty much had his back up against the wall at that point.
[ Follow Percy Crawford on Twitter @MrLouis1ana ]