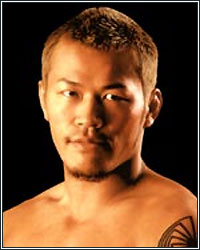 FightHype.com recently caught up with the former flashy and unorthodox K-1 star and mixed martial artist Genki Sudo to find out what he's been up to since he announced his unexpected retirement. Sudo talks about his retirement, whether or not he'd ever consider returning, and shares his thoughts on some of today's top fighters and the UFC's rising popularity. Check it out!

PC: How have you been doing Genki?

GS: Pretty well. I have been doing quite a bit of traveling, doing different television shows, relaxing, studying, and having fun.

PC: It's been almost a year since your untimely retirement. What was the main cause of you walking away from the fight game?

GS: I took into consideration my neck injury and thought it wasn't worth the risk. I thought my health was the main priority. I also wanted more time for travel and leisure. I didn't want to feel restricted to one profession. I wanted to take a step forward and expand my horizons.

PC: I've heard you've gotten into music, acting and modeling. This is far from your amazing ring entrances and unorthodox fighting style. Do you miss fighting at all?

GS: I admit, there is no feeling quite like stepping into the ring, though I do have a lot of fun acting, making music and listening to music. I have an album called Love & Everything. Some of my favorite artists are ABBA, Elliott Smith, El Perro Del Mar, DragonForce and Boaz. I still enjoy sparring as often as possible.

PC: You haven't even made it to 30 years old yet. What chance, if any, could we see you compete again?

GS: Professional fighting isn't on my mind right now, however, anything is possible.

PC: Do you enjoy watching fights still?

GS: I enjoy watching fights still. I enjoy watching Takanori Gomi win. I enjoy watching Phil Baroni lose. Anything with Bob Sapp is entertaining. I watched Dan Henderson vs. Rampage Jackson. It was a close fight; very entertaining.

PC: Who would you say are the top 3 lightweights in the world right now and what do you think of the UFC's rapidly growing popularity?

GS: The fact that the UFC bought Pride FC saddens me. I feel the cage is restrictive and the ring and the rules of Pride FC are far more superior to those of the UFC. I am not up to date with the current lightweight contenders. Some of my favorite fighters are Takanori Gomi, Norifumi "KID" Yamamoto, Tatsuya Kawajiri, Mauricio "Shogun" Rua and Thierry "African Assassin" Sokoudjou.

PC: Do you still train or is that a thing of the past for you?

GS: I keep in shape, however, I wouldn't call it "training."

PC: What the hell were you thinking when you took on Eric "Butterbean" Esch, who outweighed you by at least 225 pounds?

GS: I was thinking, "I hope he's already had his dinner."

PC: You live by the motto, "We are all one." What does that mean to you?

GS: Equality.

PC: How much thought was put into your antics in the ring? Was it something you came up with in the back or just however you were feeling at that moment?

GS: Expressing myself honestly is something that comes naturally. Whatever I feel, I do instantly. To every action is an equal and opposite reaction. In the words of a great philosopher, Li Jun-Fan, "Empty your mind. Be formless; shapeless like water. You put water into a bottle and it becomes the bottle. You put it into a teapot, it becomes the teapot. Water can flow, or it can crash. Be water, my friend!"

PC: Was your retirement announcement predetermined before your fight with Damacio Page?

GS: Short answer, yes. This was a decision I came to after long hours of thought and meditation.

PC: What is most of your energy going into these days?

GS: I write quite a bit – music and poetry – and stay very busy with television shows lately. Recently I started studying Muay Thai history and am interested in, not Angola or regional, but "Street Capoeira".

PC: I respect fighters that can walk away from the fight game, but with that being said, you are one of the most exciting fighters I've ever watched and I would love to see you back. Thanks for the interview. Is there anything you want to say in closing?

GS: We are more than our physical bodies. We are connected in more intimate ways than you think. Study the works of Dr. Masaru Emoto and know that we are all one. Thank you to all fans and supporters.
[ Follow Percy Crawford on Twitter @MrFighthype ]