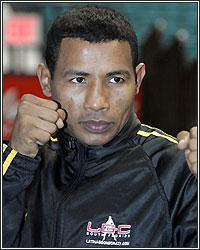 Gearing up for his return to the ring after a 2-year layoff, former three-time world champion Ricardo Mayorga is throwing his name into the Pacquiao sweepstakes. "I can beat the Filipino. If his preference is to fight me, I'm ready. Pacquiao gave an opportunity to Margarito, and he could do the same for me," Mayorga commented during a media workout held yesterday at the 5th St. Gym in Miami, Florida. Always colorful, brash and confident, Mayorga (28-7-1, 22 KOs) is currently training for a December 17 bout at the American Airlines Arena against Michael Walker (19-5-2, 12 KOs). Although there's no doubt that the 37-year-old native of Nicaragua would greatly appreciate the type of payday that would come from a potential bout with Pacquiao, he also truly believes that a wiser, new and improved Mayorga is ready to make another run at championship glory.

"I'm training very hard and I feel great. We've done great work in the gym. I feel strong. I plan to win by knockout. I learned a lot in the last two years. I have found peace. On December 17, I will show you a new Mayorga. I give special thanks to Don King and his staff for staying with me," he remarked as he spoke about his upcoming bout. "I don't think I will be hurt by my recent two-year layoff. I don't think it will be an issue. I actually think it has helped me. I want to fight at 154 pounds. Cotto, Pacquiao, any of them will do. Everybody knows Cotto is from Puerto Rico. Cotto is nobody for me. I'm not afraid of anyone. I'll go to Puerto Rico and fight Cotto there."

Until I see how he looks after being out of the ring over 2 years, I'll reserve judgement on whether or not Mayorga is truly ready to make any kind of run at a title, let alone take on any of the names he mentioned. That being said, if he doesn't look too bad against Walker, a showdown with Miguel Cotto doesn't really sound that bad at all. Before that can happen, however, my guess is that Mayorga's promoter, Don King, will want to get him a title just to have a little more leverage at the negotiating table. Assuming all goes as planned on December 17, expect Mayorga's next bout to be against current IBF jr. middleweight champion Cornelius Bundrage.
[ Follow Ben Thompson on Twitter @fighthype ]