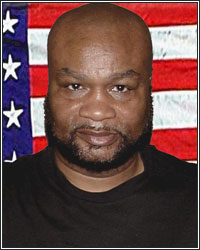 FightHype.com takes you back in time to revisit all the action of fights gone by. In this unique series, get a firsthand look at what it's like to experience the physical, mental and emotional ups and downs of a professional prizefight. Find out what the fighters were going through before, during and after the fights as they relive some of the highlights of their most memorable bouts. On March 11, 1977, Eddie Gregory and Matthew Franklin, who would both convert to Islam to become known as Eddie Mustafa Muhammad and Matthew Saad Muhammad respectively, faced off in an epic battle in Philadelphia, Pennsylvania. Check out how Eddie Mustafa Muhammad remembers what turned out to be one of the most definitive moments of his career.

TRAINING CAMP

First of all, a lot of people may not remember, but this fight was actually Eddie Gregory against Matthew Franklin. I trained at a place called Gleason's Gym in New York City. I would drive down there to the gym every day and workout, put the work in and work hard. I didn't know a lot about Matthew Franklin because at that point in my career, I was just fighting middleweights. I had a solid reputation as a middleweight in Philadelphia. At that point in my career and life, if you wanted to prove yourself, you had to fight the best middleweights, and the best middleweights came out of Philadelphia. I fought guys like "Cyclone" Hart, Bennie Briscoe and Steve Smith. I fought a lot of those guys and did pretty good against them. The only one I lost to was Bennie Briscoe. I was trained by the great Chickie Ferrara, who was a guy that worked with Angelo Dundee with Muhammad Ali. He was always in the corner. He was like Angelo Dundee's mentor. Chickie was a well-known boxing trainer back in those days.

PRE-FIGHT

He was very sure of himself and very boisterous because, remember, we're fighting in his hometown of Philadelphia. I really didn't care because I fought in Philly a lot and I was always going to the Philadelphia 76ers games. I had a friend of mine who I grew up with who played for Philadelphia and I had a good relationship with Kenny Gamble and the O'Jays. At that time, I was always hanging at the studios thinking maybe I wanted to become a singer. I was always in the studio with those guys, so Philadelphia was like a second home. I would always have a good time and to this day, I enjoy going to Philadelphia because it brings back great memories.

THE FIGHT

If you look at the staredown right before the fight, we were nose to nose and like I said, he was very boisterous and we're fighting in his hometown, and he's saying he's going to beat me and do this and do that. I told him he must have lost his mind; that he didn't look up my record and see who I am. And this conversation is going on while the referee is trying to give instructions, but it's like the ref wasn't even standing there. I was looking at his tonsils and he was looking at mines. We were face to face. It was great and we had a great crowd. We had over 10,000 people that came to that fight. It was big. Philadelphia, at that time for middleweights, and for boxing guys in particular, it was a fight town. You could walk down the street in Philadelphia and everybody knew who you were.

I knew what my capabilities were because, like I said, I had put in the work in the gym. And it showed in the 1st round when he caught me with an overhand right on my jaw. That was a solid shot because I walked right into it. He caught me flush on the chin and I went down. I got up at the count of 9 and I can recall the fight like it was yesterday because the referee, after he got to the count of 9, asked me, "Are you alright?" And I remember exactly what I told him, "Get the fuck out my way!" I was saying, "I'm gonna kick this guy's ass now. He done knocked me down and all of his people going crazy." I had all of my people there and we locked up. My mindset after that was that's the only round he is gonna win and I made sure of that. I went right to him. I was talking to him when I was beating him up, saying, "If you are supposed to be the baddest cat out here, then let's go because I'm the one moving up in weight. I'm gonna show you how bad I am." As the fight progressed, everything was starting to click now. My condition kicked in and all of the hard work that I put into the gym was starting to kick in. Those right hands that he caught me with in the 1st round were null and void. I can see them coming now because, like I said, my reflexes were sharp, my punches were sharp, and my jab was working perfect. I was working my jab up and down and I had speed. Not to mention, I was putting that pressure on him. I was digging to the body with both hands and I was talking to him while I was beating him up.

POST-FIGHT

I never got nervous as they were reading the scorecards because, like I said, Philly was like my home also because of the great fight fans and some of the great people I met coming up through Philly. My whole middleweight career was based in Philly. I met a lot of friends out there and I had a lot of great times out there and I wasn't worried because they knew I came to fight.

A couple of years after that fight, in 1978 or 79, I embraced Islam and went from Eddie Gregory to Eddie Mustafa Muhammad. My oldest sister was heavily into Islam and we all know Islam means peace. She was heavily into it and then my oldest brother started to get into it. I really got deep into it around 79 to 1980, when I started to hang around Muhammad Ali. He gave me a huge opportunity to use his training camp in Deer Lake, Pennsylvania for free. After I would workout, we would sit down and just talk about life in general. I saw how Islam had humbled him, made him more humble, made him more aware, made him sharper, and made him a worldly person and I wanted to be like that. I wanted to have my eyes and my ears on to everything that was going on in the world. I wanted to know what was going on. By me becoming a Muslim, that was the best thing that ever happened to me. I don't even count winning a championship in that equation because I got into the game because I knew I was going to win a title. But when I got to meet Ali and hung out with him and started my Islamic belief, that was a whole different ball game man. It made me a better person because I didn't even like the Eddie Gregory that I was turning out to be. Listen, I'm from the Brownsville section of Brooklyn. Brownsville was only known at that time for one particular thing and that was being the home of Murder Incorporated. If you Google Murder Incorporated, it started in the Brownsville section of Brooklyn. I didn't like Eddie Gregory at that time. So it was time for me to evolve and grow. I was getting older and I was getting wiser by just being around Muhammad Ali. He kind of took me under his wing and everything today that I have achieved in my life I owe to Muhammad Ali.
[ Follow Percy Crawford on Twitter @MrLouis1ana ]