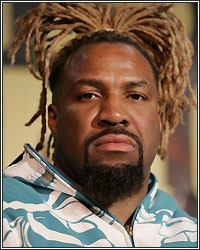 Former two-time world heavyweight champion Shannon Briggs, who spent 12 days in a German hospital after sustaining a wicked, 12-round beating at the powerful hands of current world champion Vitali Klitschko in October, is fighting back.

But, this time, the Brooklyn born and raised Briggs is not targeting an opponent in the ring.

Briggs claims that he has been a victim of a "ripoff" on two fronts by his former promoters and business partners, part and parcel of which includes documents in which his signature was "forged."

On Tuesday, Briggs filed a major lawsuit in New York State Supreme Court, alleging breach of fiduciary duty, conversion, unjust enrichment and breach of contract against Gregory D. Cohen, Shelly Finkel and Barry Honig, and their boxing and entertainment promotional company, Empire Sports & Entertainment.

In the legal filing, which seeks compensatory and punitive damages, Briggs said that he agreed to fight the powerful Klitschko with the understanding that he would be paid a purse of $750,000, but that he wound up with a mere $25,000, after he returned to the United States after the prolonged hospital stay in Hamburg.

Among Briggs' massive fight injuries were a torn left bicep, a left tendon rupture and serious damage to his eyes.

"To add insult to injury," the lawsuit alleges, "the defendants deducted the cost of Briggs' hospitalization from the understated purse of the bout."

Also, according to attorneys Jethro M. Eisenstein of Profeta & Eisenstein and Michael Marley, the defendants have also denied the fighter, now age 39 and still nursing what may be career-ending injuries from the Klitschko bout, "the compensation he was promised and to which he was entitled for his services to Golden Empire, Empire and Holdings."

Briggs contends that the two original, "50 percent" shareholders in fledgling Golden Empire, which later became Empire, were himself and Cohen and that he invested untold hours and used his prominent name in the sport to recruit and then sign talented boxers from different countries, including the Dominican Republic and Sweden, to promotional deals with Golden Empire which later became Empire.

Former world heavyweight champion Hasim Rahman, was personally recruited by Briggs to sign with the company.

Briggs also had a major role in Golden Empire/Empire expanding from boxing into the music business where the boxer "introduced Cohen and Finkel to major players" in that field.

The lawsuit alleges that the Briggs-Klitschko bout came about after Finkel became Chief Executive Officer of Empire and that Finkel was, at the same time, a consultant to Klitschko's promotional company, K2 Promotions.

"At all times," the lawsuit says, "Cohen, Honig and Finkel were in a fiduciary relationship with Briggs, as officers of a company in which Briggs held an ownership interest which obliged these defendants to act with scrupulous good faith in their dealings with Briggs."

Not long after, the badly injured Briggs flew back from Germany, the lawsuit says the defendants released him from the boxing promotional agreement.

The lawsuit says that "defendants have denied Briggs the compensation he was promised and to which he was entitled to for his services to Golden Empire, Empire and Holdings.

"By their manipulation of successor corporations, defendants Cohen, Finkel and Honig have sought to dilute and diminish to the vanishing point the ownership interest Briggs has in the enterprise."

Finally, the lawsuit alleges "Briggs understood and believed that his ownership interest in Golden Empire would ensure a promotional relationship in which his interests would always be advanced and protected."

And then, expecting to be paid $750,000 for his brave stand in taking "a brutal beating" from Klitschko, Briggs was paid $25,000 and "terminated" from Empire's roster.