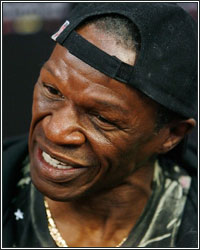 Although the amount of time they spent working together was short, boxing trainer Floyd Mayweather Sr. said former UFC lightweight champion BJ Penn learned some valuable lessons that he'll be able to use in his upcoming bout at UFC 127. "He was only here about two weeks, but he did learn some things. I told BJ not to be so aggressive," explained Mayweather Sr.

Admittedly, Mayweather Sr. would have preferred more time [http://fighthype.com/pages/content9115.html] to work with Penn, who was only able to spend a couple of weeks with the world-class trainer, however, he feels confident that Penn should have no problems using what he's learned against a taller and naturally bigger opponent. I think if he takes his time and moves his head to work his way in, he will be just fine. He's fighting a guy much taller than he is, so he has to register some work to the body as well," he added.

This Saturday, Penn will be taking on Jon Fitch in a welterweight showdown to decide who will receive the next title shot against either current UFC welterweight champion Georges St. Pierre or Jake Shields, who are facing each other in April. The bout will take place in Sydney, Australia and will be the main event of UFC 127!

[ Follow Percy Crawford on Twitter @MrFighthype ]