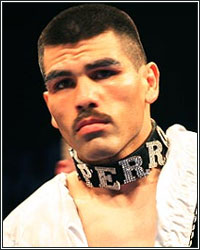 While Alfredo Angulo's career is stalled indefinitely due to his illegal status in the U.S., it is extremely likely that Angulo will indeed fight this year and a possible name that has come up is former two-time Welterweight champion Carlos Quintana. Quintana himself hasn't been the most active of fighters and his bad chin has resulted in early exits in three of his four television appearances, making him the perfect comeback opponent for Angulo. It's hard to say when Angulo is officially going to make his return to the ring, but more than likely, he'll fight in Mexico before anyplace else.

With the Jr. Middleweight division loaded with recognizable names, big fights abound and I'm not too sure why Gary Shaw isn't making more of an effort to keep Angulo relevant at this time. Most of the fighters at 154 are former Welterweights who are past their prime and should be slim pickings for the explosive Angulo, but with no mention of even his personal status, it looks more like opportunities lost should he not return soon.

Marquez, Bernstein and Company Trash WBC President Jose Sulaiman

There's no doubt that the idiots at the WBC, along with their senile and incompetant Dictator for Life, Jose Sulaiman, really outdid themselves when they announced the upcoming Saul Alvarez-Matthew Hatton bout for the vacant Jr. Middleweight title despite the one glaring omission that Hatton is unranked by the sanctioning body at 154 pounds. Sulaiman and his cronies can't seem to get their belt on Alvarez fast enough and cash in on those sanctioning fees. Surprisingly, heavy criticism has come from lightweight king Juan Manuel Marquez and his trainer, Nacho Beristain, on the issue.

Marquez has been increasingly vocal on his disapproval of the matter; so much so that he and Beristain held a mock trial and found Sulaiman guilty of being a dumbass for giving Canelo the fight. Sulaiman feebly tried to accuse Marquez of jealousy, but that's a hard pill to swallow considering that Marquez is the most popular Mexican fighter in the game right now. Unfortunately, Sulaiman wasn't arrested for being the fraud that he is, but it's good to know that there are fighters who detest these crooks.

James Kirkland Begins His Career Revival On April 9th Card

James Kirkland's career was on the upswing as he was looking like he was poised for big things until he violated his probation by having a loaded gun in his car. Two years later, Kirkland will finally be making his return to the ring on the undercard of Marcos Maidana-Erik Morales. While his opponent hasn't been finalized, Harry Joe Yorgey, who we last saw getting brutally demolished by Alfredo Angulo, seems to be the likely candidate for the job. Like Angulo, Kirkland's suspension may benefit him being that the division he is returning to is chock full of marketable fights and fighters.

I wish Kirkland the best of luck, but Anne Wolfe will no longer be training him and I fear that may lead him back down the dark path once more. Hopefully Kirkland can avoid all pitfalls for the time being and complete his ascension to stardom, one that was oh so close two years ago.