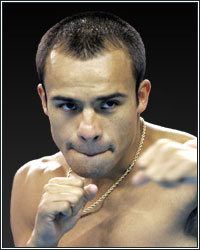 Juan Manuel Marquez knows that his career is almost over and only one fight can ignite his fire and fill his wallet. Unfortunately, that fight is one thing his promoter can't give him. Marquez's contract with Golden Boy Promotions is coming to an end and he's exploring all possible options. The likely scenario is that he'll follow the Shane Mosley route and get co-promoted by Top Rank for his long desired third match with Manny Pacquiao. I've heard everything from Golden Boy offering him an extension with permission to independently pursue a Pacquiao fight to the ridiculous rumor that Oscar De La Hoya would come out of retirement to face Marquez.

It's clear that Marquez doesn't care about a fight with Erik Morales, Robert Guerrero or Amir Khan, and he has made that increasingly clear with his almost relentless pursuit of Pacquiao over the past couple of years. Even then, the writing was on the wall for Golden Boy and if they can't secure Pacquiao for Marquez, then Marquez is jumping ship and Arum will be waiting for him. One would really wonder what's keeping the wheels turning in the house that Oscar built now that more people are trying to leave than there are people who want to come in.

Juanma Heading to Junior Lightweight?

Juan Manuel Lopez is planning just two more fights at Featherweight before he decides to test the waters at 130, not surprisingly creating more doubt that the long proposed mega-fight between him and Yuriorkis Gamboa will never happen. Lopez will next face off against Orlando Salido and then hopes to face off against Rafael Marquez again in the summer. If you call, Lopez stopped Marquez in a barnburner last November in Las Vegas. From there, he'll head up to 130.

From what I've heard, Lopez is having trouble cutting down to 126 for the fight with Salido, and depending on Marquez's recovery from a shoulder injury he sustained in the Lopez fight, the move may happen sooner than later. There remains a remote chance that if Gamboa wins his next fight, also at 130 pounds, the two may face off at the end of the year should Lopez forgo the Marquez rematch altogether. I'm not holding my breath.

Potshot Picks

Saul Alvarez vs. Matthew Hatton

Neither of these two deserve to be fighting for a title. With that out of the way, expect the larger, more powerful Alvarez to pressure Hatton all night. Hatton isn't a good fighter, but his experience may keep him on his feet long enough to give Alvarez some trouble before he gets laid out. Alvarez TKO7.

Zab Judah vs. Kaizer Mabuza

From what I've gathered, Judah is taking this fight seriously, and rightfully so. Mabuza is a tough dude. He stopped Kendall Holt by roughing him up to the body early and will expect to do the same against Judah, who will need his speed more than his power to keep the hard-charging Mabuza on the outside. Judah by decision.