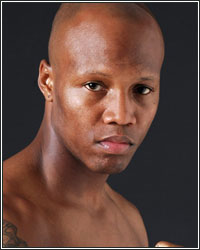 "Marquez! Marquez! Marquez! Marquez," chanted newly crowned IBF jr. welterweight champion Zab Judah, who spoke to the media during a conference call moments ago about his future plans after his spectacular 7th round stoppage of Kaizer Mabuza this past weekend. Judah, who weighed in at 138 pounds for the bout, made it clear that he's eager to face all the top names in and around the division, including Timothy Bradley, Amir Khan, and Devon Alexander, but while they're all busy with other fights, a summer showdown with lightweight champion Juan Manuel Marquez fits perfectly into his plans.

"We want the biggest fights. He's done taking small money to put ourselves into a position where he can be highly sought after. I think we accomplished that; he accomplished that the other night. The goal now is big fights. He's a pay-per-view fighter. He should be in big pay-per-view fights. There are few big names out there. Right now, there aren't a lot of big fights in boxing and I think that's what it needs. Marquez seems to be the only one who's available at the moment who's a pay-per-view figher so he would be a logical choice," explained Kathy Duva, Judah's promoter. "Marquez clearly has to sort out his promotional situation, but when he does, we will be happy to offer the fight to whoever he decides he'd like us to offer it to. Zab is a champion and again, Marquez is available this summer. That fits perfectly with our schedule. That's when we'd like Zab to fight again, some time in July. So June, July, that's what we're looking at. Keep him active, that's been our plan all along. We're going to stay active, we're going to get Sweet Pea back in camp with him as quickly as possible and let him keep learning."

"I'm going to keep me a bottle of Listerine on hand just in case he decides to drink some pee pee. Tell him he ain't got to be on pee pee to fight us. It's okay. We don't need that. It's okay. If he do, I'm giving him some Listerine and I don't want nobody to get mad at me. I don't want that man coming in smelling like pee pee," Judah added before continuing his chants for Marquez.
[ Follow Ben Thompson on Twitter @fighthype ]