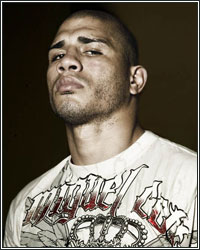 In his last two appearances at the MGM Grand Garden Arena in Las Vegas, Nevada, Miguel Cotto endured two brutal beatings in losses to Antonio Margarito and Manny Pacquiao. On Saturday night, in the very same ring against Ricardo Mayorga, Cotto proved that he is far from shot and that those defeats were just a wrinkle in time for him. In the main event of a card that was billed as "relentless", Cotto relentlessly stuck to his boxing game plan as he peppered stiff jabs and counter left hooks to the head of Mayorga, while ignoring his opponents enticements to fight toe to toe. Although Cotto was winning nearly every round, the dangerous and heavy hands of Mayorga were keeping his fans hopeful for a come-from-behind stoppage. Unfortunately for the Nicaraguan slugger, it was not to be and 53 seconds into the twelfth and final round, Cotta scored with a vicious left hook that floored him.

Prior to the knockdown, Mayorga was loading up a huge counter left hook of his own when he caught flush on the jaw by the Cotto left hook. Staggering backwards, Mayorga appeared to have suffered some kind of injury as he fell complaining more about his hand than from the blow he had just received. Nonetheless, he gamely fought on, but was defenseless against Cotto's shots and realized he could no longer compete as a one-armed combatant. He backed up to a corner and signaled to the referee in a "no mas" like gesture, which caused Robert Byrd to wave the fight off.

With the win, Cotto defends his WBA super welterweight title and perhaps puts himself in line to avenge the Margarito defeat in a bout that Puerto Rican fans appear to be itching for. Margarito was in attendance and a shot on the arena's big screen prompted a chorus of boos from the pro Boricua crowd. Cotto improves to 36-2 (29 KOs') while former champ Mayorga falls to 29-8-1 (23 KO's) and conitinues his pattern of being the second best boxer in the ring after being the best showman during the build-up of a big fight.

Super welterweight Pawel Wolak made his case to be included in the mix of the loaded division by ruining the ring return of former champion Yuri Foreman. Wolak kept the pressure on for the six rounds the fight lasted. Even when Foreman would land a shot, he would get countered by 2 or 3 more powerful punches. Around the middle of round 5, referee Kenny Bayless was keeping a close eye on Foreman as he continued to take punishment. The Foreman corner saw enough after 6 and surrendered thier gutsy warrior, who appeared to protest the stoppage for a brief moment. Wolak is now 29-1 (19 KO's) while Foreman falls to 28-2 (8 KO's).

The evening's special attraction drew big cheers from the audience as Baltimore Ravens safety and unbeatean heavyweight Tommy Zbikowski locked out, oops, sorry, knocked out Richard Bryant at 1:45 of the opening round. Replays showed a left to the body as the end of Bryant's evening, however, the crowd was more focused on a shoulder push that occurred after the body punch, turning the cheers into boos as the fans in attendance felt as though Bryant chose to go down after the shove. Nonetheless, it looks like Tommy can fall back on boxing for as long as he is out of action during the NFL lockout. He now improves to 2-0 (2 KO's) while Bryant falls to 1-3 (1 KO).

The pay-per view portion of the card kicked off with Miguel Vazquez outboxing and defending his IBF lightweight title against previously unbeaten Australian Lenny Zappavigna. Zappvigna was the aggressor, but Vazquez threw more effective combos, backing up the challenger and keeping him at bay with a stiff jab. Scorecards read 118-110 twice and 117-111. Vazquez improves to 28-3-1 (2 KO's) while Zappavigna is now 25-1 (17 KO's).

OFF-TV RESULTS:

Middleweight Matt Korobov was supposed to have a stiff test against veteran Michael Walker. Ninety one seconds later, however, Korobov had easily aced the test as he flattened Walker with a flush right hand. Korobov goes to 14-0 (9 KO's). Walker is now 19-7-2 (12 KO's).

Jesue Rojas of Puerto Rico and Arizona's Isaac Hidalgo shared plenty of nice exchanges in thier six-round super bantamweight bout. In the end, Rojas was a little more fine-tuned in the boxing skill category and took a hard-earned unanamous decision. Scores where 59-55 twice and 58-56 for the now 17-1 (12 KO's) Rojas. Hidalgo left the ring with his head down, while the crowd applaueded a brave effort. Nonetheless, disappointment in the ring continues as he falls to 8-7-2 (1 KO).

Texas Heavyweight Eric Molina scored a sixth round TKO over south Carolina's Joseph Robotte. The bout was stopped at 1:56 when Robotte was floored and got up on wobbly legs. Molina improves to 17-1 (13 KO's). Robotte goes home with a record of 9-16-1 (3 KO's).

In the opening bout, Juan Gonzalez of Puerto Rico improved to 11-0 (10 KO's) with a TKO victory over Minnesota's Jeremy McLaurin in a lightweight bout. McLauring falls to 8-2 (5 KO's).