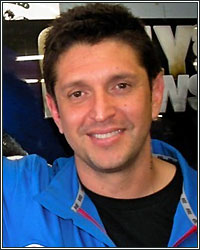 As most boxing fans are already aware, Alex Ariza is the strength and conditioning coach for the most talented and hardest working fighter in the sport, Manny "PACMAN" Pacquiao. Over the course of the last few months, there were widespread rumors regarding his continued employment with the pound-for-pound champion. Those rumors had some people wondering just how important Alex Ariza is to Manny Pacquiao, and to a further degree, how important is he to the fans of Manny Pacquiao?
Alex Ariza's job is to make sure that Manny Pacquiao is in top physical form for every fight that he enters. His job is to make sure Manny Pacquiao has the strength and speed necessary to compete and win at the highest levels against many opponents who are naturally bigger and stronger than him. Just as important, Ariza is also required to make sure the champ is not suffering from anything that may inhibit his performance, such as an injury or a physical ailment. Any minor physical ailments can be an issue that prevents a boxer from becoming a champion. That includes injuries that most fans are not even aware of.
I personally have known about some pretty painful shoulders problems that Manny Pacquiao has faced over the years. When Alex Ariza was first introduced to the camp, he immediately started working to heal the Champs shoulders. Teaching Manny Pacquiao specific stretching exercises, Alex utilized deep tissue healing techniques and strength exercises to develop the muscles around the soreness and inflamed tissue that the Champ was suffering from. The result took pressure off the joints, allowing time for the healing process to take place and ultimately reducing the swelling around the nerves. It is the swelling that caused Pacquiao the irritation, the pain, and the inability to train effectivly to perform at his best. With the Champ healed at his best, he can practice even harder, allowing him to throw that devastating left hook that has put past competition to sleep and possibly giving them nightmares for the rest of their lives.