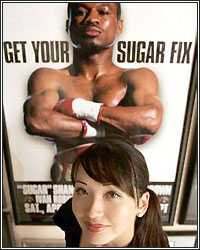 They say that hell hath no fury like a woman scorned. Evidently, hell also hath no fury like a woman going through a divorce. In February of 2009, citing irreconcilable differences, Jin Mosley filed for divorce from her husband, future Hall of Famer "Sugar" Shane Mosley, after six years of marriage. It's been more than two years since the news was first revealed, and yet, the ex-couple is still working out details of their settlement through a mediator despite having already moved on to new relationships. Although they are close to bringing an end to that chapter of their lives, a source with intimate knowledge of the settlement tells us that there's one final sticking point preventing them from reaching an agreement. Apparently, Jin has her heart set on three world titles that Shane won over the course of his career.

According to our source, Jin is demanding full custody and control of the titles that Shane won at jr. middleweight, welterweight, and even lightweight, a period when she didn't even know him. Our source tells us that she plans on storing the belts until each of their three children turns 18 years old, at which point, she will give each child one of the belts. I know...sounds crazy, right? Not long after news first broke about the divorce, Jin gave an interview in which she was adamant about the fact that she wanted to end the marriage as soon as possible. Yet here we are, two years later, and three world titles are standing in the way of finalizing the settlement.

"I refuse to put myself or my children through the agonizing drawn out bitter trial. We brought in a mediator. We sat for six hours and everything was done. I walked away from a lot and didn't fight him for anything except that my children be supervised while at his parents' or sister's house. I left it in the hands of the judge and let him decide what I was entitled to or not; contrary to what people think. The mediators and judge said this was the easiest divorce they had done in 30 years," Jin would tell Coyote Duran of DoghouseBoxing.com back in 2009. Contrary to her statements, however, this has not been the easiest divorce by a long shot and she is fighting him something; three world title belts, as well as $2 million dollar home, but that's a different story. In fact, during that same interview, Jin made it a point to clarify that she wasn't concerned about money at all.

"People criticize me for doing this during training camp [for the Margarito fight], but my whole life has revolved around fights or training camp and I wanted it to be done with ASAP. Truth be told, had I waited an extra week, which many people begged me to do, I would have been entitled to half of the Margarito purse. But this has never been about money with me and anyone that personally knows me will vouch for this," she reiterated, perhaps looking to do damage control before anyone accused her of being a gold digger. Now I ain't sayin' she a gold digger...HOWEVER...I am curious to know why she insists on having custody of three titles that Shane shed his own blood, sweat and tears to win.

As Jin herself said, it's not about the money, which should be obvious when you consider the small monetary value that titles hold in the dwindling boxing memorabilia market. Case in point, just last year, former heavyweight champion Michael Moorer auctioned off the WBA title that he won after defeating Evander Holyfield for a mere $3000. Likewise, former heavyweight champion Ken Norton tried to sell the NABF title he won after his shocking upset victory over Muhammad Ali, but when the auction ended in August of last year, it was never sold after only receiving 3 bids. Clearly Jin isn't hoping to hold onto the titles for their monetary value, so I can't help but wonder what it's really about.

Although we were unable to reach Shane Mosley for comment, I can't imagine that he'll be too eager to give up the titles he worked so hard to attain. Jin once said that she didn't want a drawn out, bitter trial, but that may be exactly what she gets now that 2 years of mediation are being held up over 3 title belts. I'm no lawyer, but I can't imagine that any judge would freely hand over titles that were won due to Shane's own talent and his ability to put himself in a position to win them after a lengthy career that began well before the two were ever married. Worst case scenario, a judge might place some value on those titles and Jin could be entitled to half. If that's the case, however, one would think that Shane could just pay her their worth and call it a day. Then again, as Jin pointed out, it's not about the money, so I still can't help but wonder, what is it really about? Is it to ensure that her kids get a piece of their father's history, something that their own father can decide when they come of age, or is Jin just being a heartless bitch? Let us know your thoughts in the comments below.
[ Follow Ben Thompson on Twitter @fighthype ]