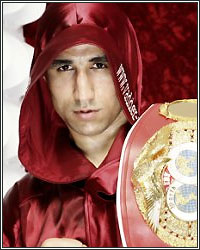 Considering the number of cancellations, postponements, and replacements, it is hard to think all the way back to the beginning of the Super Six tournament and remember when many had "King" Arthur Abraham pegged as a co-favorite with Mikkel Kessler to win the tournament outright. The Sauerland-promoted fighter had possibly the best trainer in Europe, Ulli Wegner, to go with his airtight shell defense and his explosive power. There was some criticism of his relative inactivity in the early rounds of his fights, but Abraham always eventually got his man, many times in stunning knockout fashion.

Some were pegging him as a miniature Marciano as early as his first fight against a then-undefeated Edison Miranda. Abraham suffered a broken jaw in the fourth round and tolerated the errant headbutt and flying elbow from the desperate Miranda, to pull off a unanimous decision. The highlight reel of the fight proved popular online, with King Arthur spitting up blood and refusing to quit, despite having to cope with the kind of pain that would have found many boxers exiting stage left supine on a gurney.

After word circulated that Arthur had a steel plate inserted in his jaw and was gunning for Kelly Pavlik, his star continued to rise. He plowed through class competition and dispatched Edison Miranda once more before finally gaining the necessary weight and throwing his hat into Showtime's tournament to determine who was the best Super-Middleweight on Earth (except for maybe Lucian Bute).

Jermain Taylor was easily the most accomplished and famous opponent Abraham had faced up until this point. Abraham began the fight in his perplexing shell stance, occasionally opening up with bombs that either flew wide of the mark or pressed Taylor's gloves into his face. Within the last fifteen seconds of the match, Abraham knocked Taylor unconscious and ended the former champ's career.

Abraham was awarded three points for the knockout, and was next slated to fight Andre Dirrell, who that same night had managed to frustrate both Froch and the Nottingham crowd with his tactics of constant holding and occasionally falling to the ring apron.

Going into his second Super Six bout, most oddsmakers had Abraham favored at 7:2. Those who had their money on the King saw the fight as fairly straight-forward. Abraham was an iron-jawed bruiser with an airtight defense, a perfect record, and a high knockout ratio. He hadn't just knocked Jermain Taylor out the way that Kelly Pavlik or Carl Froch had. He had knocked Taylor out of boxing, for good. As for his opponent, Andre "The Matrix" Dirrell, he had done very little to acquit himself in their eyes in his tournament debut, besides employing spoiling tactics and refusing to mix it up.

Still there were some who spotted a flaw in the King's crown, best summed up by mentioning the name of another German-based champion, Sven Ottke, who had a very similar problem to the one that Abraham had unwittingly developed. For those not familiar with Ottke, he had won all 34 of his professional fights, but had won all of them on home soil, in front of sympathetic crowds and in a familiar environment.

Abraham had only gone to America once at this point, and that to fight in Florida against a fighter he was already familiar with and had once beaten (Edison Miranda). He now found himself the smallest fighter in the tournament, going up against a natural super-middleweight who could have easily fought at Light-Heavy, and he was going to be fighting him in his backyard. And despite Dirrell's generally lackluster performance against Froch, there were flashes, moments of brilliance (especially in the later rounds) that should have worried Abraham and his trainer.

But they never saw it coming. Dirrell fought Abraham as if he was fighting all of his critics who had accused him of relying too heavily on the back-foot in his previous match. He blitzed Abraham with precise jabs, used his rangefinders to keep himself from being cornered, and respected Abraham's power until he learned to neutralize it. But even those who had picked the underdog to win hadn't expected him to actually rattle Abraham or knock him down, which is what happened in the fourth round. Abraham did not suffer the humiliation well, abandoned whatever gameplan he had, and when he could not land that one game-changing punch, he got his first taste of refereeing, American style, after Dirrell slipped on a wet logo and the King disqualified himself with a late punch.

There was some controversy, with Abraham sourly calling Dirrell more of an actor and less of a boxer. After the fight, Abraham licked his wounds and hunkered down for training at his German retreat to prepare for his redemption song against Britain's Carl Froch.

Carl "The Cobra" Froch was smarting from his first career loss to former Calzaghe scalp Mikkel Kessler, and it was clear that either man needed to secure the win to help his chances to advance to the final round. There was ugly haggling over securing a neutral venue, until both parties finally agreed on Helsinki. Despite Abraham's previous loss to Dirrell, his chances against Froch looked good. Froch prided himself on being a warrior, "standing and fighting," in his own words, rather than trying to knick the fight off the judges or running around the ring. A stationary opponent boded well for Abraham.

Unfortunately for Abraham, Froch didn't need to run. He did everything Dirrell had done to Abraham, only he did it a little bit better; so well in fact that when the match was over, Abraham could only touch his glove and admit to Showtime's ringside analyst that the better man had won.

Now that Abraham has gone from co-favorite to outsider in the space of two fights, where does that leave him, especially considering that his next fight is against the only undefeated fighter left in the tournament, and the first one to upset the applecart by blowing Mikkel Kessler out of the water when "The Viking Warrior" was supposed to be setting the pace for this tournament?

Unless Abraham has revamped his entire gameplan, it does not seem likely that he will win. Andre Ward has demonstrated a dangerous versatility, picking Kessler off from the outside and beating Allan Green in a phone booth so small that even Ricky Hatton has to raise his glass of Guinness Stout in appreciation. It would appear that Abraham is a victim of Germany's insular boxing culture, which might not entirely be his own fault. He did in fact try very hard to get Pavlik in his sights, and no doubt would have taken the match if it had been offered in America.

But Abraham is also a victim of his own myth-making, as Al Bernstein pointed out in his match against Froch when he dropped his guard and taunted Carl to come in, doing his "Marlon Brando" impression. These Ricardo Mayorga antics encourage the crowd to cheer, but when a boxer abandons his plans out of frustration, he opens himself up to sharpshooting, and Froch was only too happy to oblige and tee off until the final bell rang.

It may be too late for Abraham to break old habits, to understand that inactivity for four straight rounds followed by Hail Mary hooks will not cut it at the elite, international level. Abraham is no doubt a warrior, with a (literally) steel jaw, who still boasts a high knockout ratio. But if he doesn't show anything new against Ward, it might be best to go back to being a big fish in a small pond, which isn't so bad, after all. Just ask Sven Ottke.