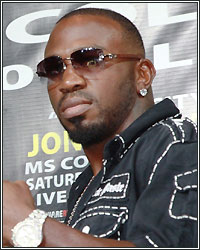 Former super middleweight world champion Jeff "Left Hook" Lacy read with interest last Friday's edition of the USA Today newspaper in which Strikeforce Champions' Nick Diaz challenged him to a boxing match.

"Honestly, I was a little stunned. Nick has accomplished a great deal in mixed martial arts and is certainly one of the best in the sport. But getting in the ring with me for a boxing match is a path he needs to be very wary of taking. I'm willing to put it all on the line anytime, anywhere!" said the St. Petersburg resident.

"For the right price, I'm more than interested in heading to his turf and put my fist in his mouth and silencing him."

Diaz is coming off a dominating win over Paul Daley last weekend in a Showtime televised fight in front of a packed house at the Valley View Casino Center in San Diego and is looking for new challenges.

In a fantastic one round bout, Diaz scored a TKO victory Daley with a barrage of punches calling a halt to the action at the end of the initial stanza.

Appearing on HDNet's Inside MMA Show, Diaz said "They don't have anybody else for me to fight now; I don't see much of a future in this sport for me. I honestly don't, especially if there's not whole a (crap) load of money going on."

Strikeforce officially paid Diaz $175,000 for beating Daley, according to the California State Athletic Commission.

According to Diaz's manager/trainer Cesar Gracie, Diaz is looking to box against a prominent opponent in September or October.

Said attorney/manager of Lacy, Joey Gilbert, "In my opinion Nick Diaz has the best boxing/striking skills in the MMA game today, he's always in exceptional shape, his comfort level in the pocket and under fire is comparable to any seasoned boxing champion's and I feel his hands are better than B.J. Penn's who many believe is the best in the sport."

"I'd love to see this fight take place in northern California or at the Silver Legacy or Eldorado Hotel & Casino in Reno, Nevada. Nick has a lot of fans around here."

A participant in The Contender, Season One, Gilbert is a former middleweight contender. He currently is a practicing attorney and founder of Sports Entertainment Unlimited, a diverse sports management firm based in Reno and Las Vegas, Nevada.