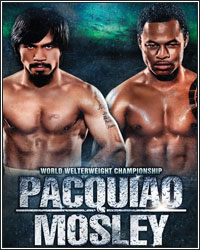 The fighters who will compete on Saturday's undercard met with the press Thursday at MGM Grand.

This Saturday, May 7, at the sold-out MGM Grand Garden Arena, eight-division world champion Pacquiao (52-3-2, 38 KOs), of General Santos City, Philippines, will defend his WBO welterweight title against three-division world champion Mosley (46-6-1, 39 KOs), of Pomona, Calif., in the main event of a four-fight telecast produced and distributed live by SHOWTIME PPV® beginning at 9 p.m. ET/6 p.m. PT.

The eagerly awaited event also will be available online at www.toprank.tv, http://sports.SHO.com, and www.sports.yahoo.com.

Those who buy the event online will get features unique to the digital platform through NeuLion's technology. The enhanced and unique viewing offers a four-shot, multi-angle dynamic player that will allow viewers to interact and feel an enriched experience. The online pay-per-view is exclusive to U.S. viewers. Select cable and satellite TV systems will also be offering the pay-per-view live stream.

Closed circuit tickets, priced at $50, are on sale and available at all Las Vegas MGM Resorts properties.

WBO junior featherweight champion Wilfredo Vazquez Jr. (20-0-1, 17 KOs), of Bayamon, Puerto Rico, will make his Las Vegas debut and third title defense when he faces five-time world champion Jorge Arce (56-6-2, 43 KOs), of Los Mochis, México, former world middleweight champion Kelly "The Ghost" Pavlik (36-2, 32 KOs), of Youngstown, Ohio, meets undefeated WBC Continental Americas super middleweight titleholder Alfonso "El Tigre" Lopez (21-0, 16 KOs), of Cut and Shoot, Texas, in a 10-round super middleweight battle; and Mike Alvarado (29-0, 21 KOs), of Denver takes on "Sugar" Ray Narh (25-1, 21 KOs) of Accra, Ghana, in a 10-round super lightweight match.

The mega-event is promoted by Top Rank, in association with MP Promotions, Sugar Shane Mosley Promotions, Tecate and MGM Grand.

What the participants said Thursday:

WILFREDO VAZQUEZ JR.

"I'm very happy to be fighting on a big show like this. Arce is talking about a knockout? He is crazy – I'm ready for him.

"Arce is a great fighter, a great champion and he has a lot of guts. But the knockout is not going to happen. I fight for my family and I'm going to win on Saturday night."

JORGE ARCE

"I know that everyone will be watching on Saturday night because Manny Pacquiao will be fighting. I don't know what will happen but only one thing is for sure – I'll win by knockout."

KELLY PAVLIK

"The story has been done, everything has been written. But what hasn't been talked about is how zeroed in I am for this fight. This is a hungry kid, he's undefeated and he's looking to make a statement in his career. We didn't take him lightly. He's a tough kid with a lot of knockouts and he's a great opponent to come back to.

"The energy level of this training camp is the best I've had in my career. I'm ready to show the boxing world that we're back and we're ready to make our stamp in this division."

ALFONSO LOPEZ

"What an amazing event to be a part of. I had a great camp. This is going to be a tough fight. Pavlik is a great champion. He's very strong and we all know what he can do in the ring. I'm just ready to get in there and fight."

MIKE ALVARADO

"I need to win this fight to get to the next level for all the great champions in front of me. Saturday night is going to be a very explosive and intense fight. I've had a great camp and I'm ready to go."

RAY NARH

"I'm here to take care of business. I can't lose. He brings everything to the table and that's what I like. It will bring the best out of me. I know he's going to come ready to fight but I'll be the one with my hand raised at the end."