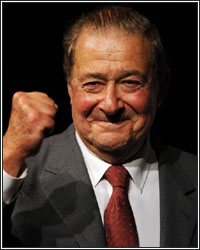 "If they don't match, we'll fight Juan Manuel Marquez in November," stated promoter Bob Arum, who revealed to the media in attendance at the post-fight press conference that Pacquiao's next fight will indeed be lightweight champion Juan Manuel Marquez, assuming that his former promotional company, Golden Boy Promotions, does not match the current offer on the table from Top Rank Promotions.

According to Arum, Marquez met with them over the weekend and after some minor changes were made to a proposed contract, the revisions were sent to Golden Boy in order to give them an opportunity to match it. Arum is of the opinion that the offer is so good that Golden Boy will decide not to match it, allowing Marquez to be free to pursue the long-awaited third bout with Pacquiao. If, however, Golden Boy Promotions is able to match the offer and satisfy Marquez, Arum already has a backup plan. "If they match, then we'll look to fight either Timothy Bradley or Zab Judah."

While all of those potential matchups may have sounded good prior to Saturday night, one has to wonder if any of those challengers have any kind of shot against Pacquiao after witnessing his lopsided dominant performance against Mosley.
[ Follow Ben Thompson on Twitter @fighthype ]