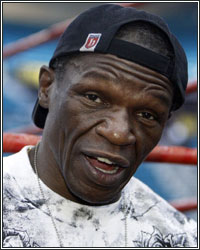 FightHype briefly caught up with world-class trainer Floyd Mayweather Sr. to get his thoughts on last Saturday's disappointing showdown between Manny Pacquiao and Shane Mosley. Although he has vowed to stay relatively slient when it comes to anything related to Pacquiao, Mayweather Sr. wasted no time in giving his opinion on Mosley. "Shane Mosley is sure to get into the Hall of Fame. Shane needs to retire before he gets seriously hurt, man. I'm being serious and really concerned about him," he commented. "His last couple of performances should be an eye opener for him as to what his body can and can't do anymore."

For those that missed his performance, Mosley was pretty much blanked by the Filipino superstar, losing virtually every round on each judges scorecard. The fight drew several boos from the sold-out crowd due to Mosley's unwillingness to engage after he was knocked down early in the fight. Despite Pacquiao's dominance, however, Mayweather Sr. was unimpressed with what he saw, directing blame towards Pacquiao's trainer, 5-Time Trainer of the Year Freddie Roach. "Man, let me tell you something, man, I watched that fight and Roach is an average trainer training an average fighter," Mayweather Sr. continued. "In fact, if you came and worked with me for 2 weeks, I put my hand on the Holy Bible, man, you could out-coach Freddie Roach. He ain't teaching Pacquiao shit, man; basic shit!"

Whether or not you agree or disagree with Mayweather Sr., he does bring up a valid point. Despite the fact that, from the third round on, Mosley appeared to be ripe for the taking, Pacquiao was not able to close the show as easily as he should have against a fighter seemingly unwilling to fight. In fact, if the boos were bad enough, hundreds of fans literally began to exit the arena midway through the 10th round, opting to enjoy their rest of the night as opposed to sticking around for the final outcome of the fight. Although Pacquiao blamed his inability to finish Mosley on a case of leg cramps, there are many pundits who argue that the little defense and movement that Mosley gave Pacquiao was all it took to keep the offensive whirlwind at bay and survive the full 12 rounds. Again, whether you agree or disagree with Mayweather Sr., you have to wonder that if Mosley can frustrate and keep Pacquiao at bay with his limited output, what will happen if Mayweather actually meets Pacquiao inside the squared circle.
[ Follow Percy Crawford on Twitter @MrLouis1ana ]