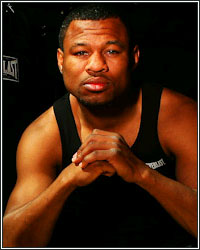 "I never fought nobody that hits like that. Never! You can see my reaction with all the punches he was grazing me with. I was lumped up more than I've ever been lumped up ever; that's with Vernon and everybody," stated future Hall of Famer "Sugar" Shane Mosley, who briefly touched base with FightHype.com to share his thoughts on last Saturday's clash with Filipino sensation Manny Pacquiao. According to Mosley, after he was knocked down in the third round by a short left hand, he quickly realized that he was in with the hardest puncher he's ever faced throughout his 18-year career.

"The shot that I got hit with, it was different. I was all fucked up. The only thing I could do was move away from him because I'm a lot taller than him. I could slip all of his shit because he couldn't touch me with shit. That was the only thing I really could do," Mosley explained as he recalled the punch that sent him to the canvas for only the second time in 55 professional bouts. "After I got knocked down in that third round, I went to my seat, looked up and it was the 6th round. Listen, I don't remember the 4th or 5th round. I remember looking up like, 'What round am I in now?' I look up and it's the 6th round."

Mosley, who has received a great deal of criticism for his unwillingness to engage after the knockdown, cites Pacquiao's extraordinary power as the reason why he was much more cautious and hesitant to let his hands go. "I wasn't going to go in there trying to open up and throw haymakers when I know he's throwing 6-inchers and dropping me," he continued. "I knew if I'd open up, that's when he was going to catch me. I was lumped up like crazy. I've been hit 100 times more by everybody that I fought. Like, he didn't even hit me that much. I got hit more by everybody else that I fought than him. That shit is crazy."

As for his own future, despite the loss, Mosley doesn't sound like he's ready to hang up the gloves any time soon. "I'll fight Cotto, Margarito; either one of them," he added. Indeed, Miguel Cotto and Antonio Margarito are two potential rematches that exist for Mosley. They're also two opponents who were tenatively scheduled to have their own rematch later this year, but an eye injury that Margarito suffered in his last bout against Pacquiao has yet to heal properly, possibly leaving Cotto without an opponent. Could Mosley potentially step in to face Cotto in a fall showdown? Or has Pacquiao taken too much out of both fighters to make it as entertaining as the first?
[ Follow Ben Thompson on Twitter @fighthype ]