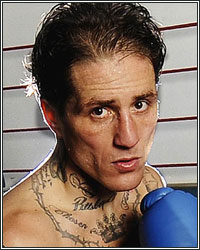 If you didn't catch the latest episode of FightHype Radio, you missed special guest Jesse Reid, world-class trainer of undefeated welterweight Paul Spadafora, who stopped by the show to set the record straight regarding a rumored clash with undefeated pound-for-pound champion Floyd Mayweather [insert link to other jesse story here]. For those that didn't know, there's an infamous video on YouTube depicting Spadafora seemingly getting the better of Mayweather during a sparring session over ten years ago. According to Reid, Spadafora taught him a lesson that he would never forget that day, making it the last time that anyone would ever be allowed to film Mayweather while sparring. At that time, although both fighters were champions, very few would have believed that the bigger Spadafora would be able to handle the skill, speed and pedigree of Mayweather, a former Olympic medalist. Reid, however, was confident in his fighter, so much so that it was his decision to film the sparring session for proof of his own fighters abilities. Check out the following excerpt from last week's show to see how Reid recalled that day. You'll be surprised at what he had to say.

"We made the match and I told them, 'Listen, it's not going to be 3 rounds, it's gotta to be 6 rounds, and if he tries to pull out of the 6 rounds, I'm going to tell everybody. In fact, I think the whole town will be there to see what a coward he is.' Well naturally, his dad says, 'We're going to knock him out in one round,' and they were doing a lot of bragging; all of them hang on people around him were all bragging and this and that. So I sat Paul down that night and I says, 'How do you really feel about this Paul? Because we're going in there tomorrow morning. This is going to be a great thing. Some day, this can make you a lot of money because I know you can beat this guy. And I understand the Mayweathers and I know their style.' Paul says, 'Jesse, all that bragging they did, let's do it!' And I said, 'Okay, we'll go there and we'll put it on.' Except I said, 'I'm going to tape this because I know you're going to do well.' So I did and that's why Mayweather don't let anybody tape him anymore. That's why he's in top shape for every fight. I think we taught him a good lesson because we really did handle him. I mean, the first two rounds were you take one, or I'll take the other, but after that, Paul just handled him like he owned him. And he was inside with him, inside close, talking to Mayweather because he was doing so much bragging, he says, 'Hey, that nose is bleeding and that eye looks like it's swelling up,' and he kept cracking him. Finally, the fourth round, Mayweather comes to me and asks me if he could get out of the ring because he says he's tired. I says, 'You ain't getting out of the ring. You're getting your ass kicked today to teach you for all the big mouth you had, and your father.' So after it was all over, he's laying on the ground for 20 minutes, completely exhausted, and I'm taping it and I sent this tape to Lou DiBella, and Lou DiBella was in shock." - Jesse Reid on the Mayweather-Spadafora sparring session (5/18/11)

To listen to the complete audio of the rest of Jesse Reid's story, click the play button below.


Audio content
Don't miss the next special guest and your chance to call in to FightHype Radio every Wednesday at 8PM ET/5PM PT.