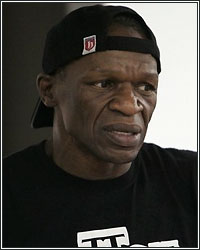 World-class trainer Floyd Mayweather Sr. was shocked when he heard that future Hall of Famer Roy Jones Jr. was still fighting, but when he found out the outcome of his most recent bout, a knockout loss in the final seconds of the fight, surprise turned to serious concern as he expressed his advise for the ring legend. "Oh, Roy fought today? He got knocked out with 1 second left? Man, look here man, Roy Jones is already a Hall of Famer. Roy needs to sit down, man, before he really gets hurt," Mayweather commented when he was informed of Roy's 10th round knockout loss to Denis Lebedev in Moscow, Russia this past Saturday.

"He is a Hall of Famer that is making himself look like an ass," Mayweather Sr. continued, critical of what Jones is doing to his legacy as he noted that no one in the history of the sport has ever tarnished their once great resume as much as Jones has of late. "You can't even say Muhammad Ali went out this bad, man. Ali was getting beat up late in his career, but Roy is just getting put to sleep. Tarver totally destroyed his chin and his career. I can't really think of anyone who has gone out like that, and for him to say he may not be done, he's gotta be punch drunk already," Mayweather Sr. remarked.

Although fans at one time referred to him as "Superman", Mayweather Sr. is hoping that those that are closest to Roy and know his true identity encourage him stop before any permanent damage is doen. "Unfortunately, man, a lot of these guys don't know when it's over. If you look at the history of the sport, fighters don't know when to give it up, man. I hope Roy has some concerned people around him because at this point, who would sanction a fight with him," Mayweather Sr. continued as he expressed sympathy for the faded legend while being outspoken but realistic about his assessment of Jones at this stage of his career. "Roy has to have someone around him to say, enough is enough, and I'm not sure he does. But he has the HBO commentating gig going and you gotta be sharp to do that, so he should sit down before he messes that up as well."

It's unclear as to what the next move for Jones will be, although for fight fans, media, and family alike, the logical choice is retirement. History shows that fighters can be the most stubborn creatures on earth, and the recent history of Jones proves that whatever Antonio Tarver took from him in May of 2004, almost 7 years ago to date, he will never get it back. Jones has now dropped 4 of his last 6 fights, including 2 by way of knockout. Is this the last we've seen of Jones? Let's all hope so!
[ Follow Percy Crawford on Twitter @MrLouis1ana ]