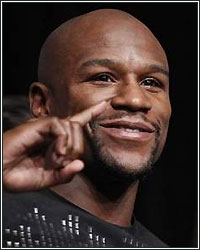 Contrary to rumors, undefeated pound-for-pound king Floyd "Money" Mayweather did NOT bet $10 million on the Denver Broncos to beat the Seattle Seahawks in the Super Bowl this Sunday. According to a Twitter account named Vegas Gambling Steam [@Pregame_Steam], which bills itself as "Industries #1 #Handicapping #Gambling #Watchdog ' Updating #Steamed & Public Betting Percentages from top books in #Vegas", Mayweather allegedly spread the $10 million wager across 7 different books. FightHype.com has learned, however, that the story is 100% false.

"No, that's not true at all," stated Mayweather's personal massage therapist, Doralie Medina, who was with "Money" when FightHype.com reached out to him to find out if there was any truth to the rumor. Though he was unavailable for an immediate comment, Mayweather could be heard in the background stating, "How many times do I have to say if it doesn't come from me, Leonard [Ellerbe] or Al [Haymon], it's not true?" Doralie added, "Floyd was just laughing about that, but no, Ben, you can let everyone know that it's not true."

So there you have it. Floyd "Money" Mayweather has NOT bet $10 million on the Denver Broncos. In fact, he wouldn't even give us a hint on who he was picking to win.