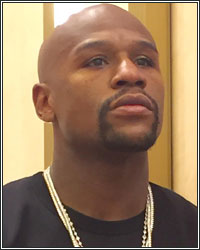 "I spoke about this a couple of years ago. I said the most marketable quarterback in football is Cam Newton. That young kid, you know, great smile, very strong, fast, agile, articulates extremely well. He's extremely marketable, but remember this, when we look at it, Peyton Manning has a lot more commercials, but he's broken a lot more records. I'm a Peyton Manning fan and I'm a Cam Newton, but I've been a Cam Newton fan ever since he won the championship in college," stated retired undefeated former pound-for-pound king Floyd Mayweather, who commented on the scrutiny that NFL star quarterback Cam Newton has received following his disappointing loss in Super Bowl 50. According to Mayweather, it wasn't cool that Cam Newton received the criticism that he got. You don't want to miss what else he had to say. Check it out!

FLOYD MAYWEATHER ON CAM NEWTON:

This is so crazy and I see this all the time. That's why I bust my ass so hard so this wouldn't happen to me. All throughout the season, everybody loved Cam Newton. Everyone was dabbing and dancing and loving Cam Newton, right. The game was on Sunday; on Saturday, everyone was loving Cam Newton. As soon as the game was over on Sunday, nothing but negative things about Cam Newton. Now let's really look at the game. Yes, Cam Newton made a few mistakes in the game, but a lot of times, he was putting the ball right there on different player's chests. They were dropping the ball. Who was getting criticized for the loss? Cam Newton, and that's not cool at all. It's so crazy that so many different celebrities...since Cam Newton went to the NFL, you never seen no celebrities hanging out with Cam Newton or really communicating with Cam Newton. All of a sudden, you know, he had a, I think a winning season, it was 15 and 1 before he lost in the Super Bowl, but guess what! All season, you seen so many people hanging around Cam Newton, at the game with Cam Newton, going to different functions with Cam Newton. Where were you guys, you know, when Cam Newton first came into the NFL and he wasn't winning? All I'm saying is this, that just shows your true colors.

Even like with Isaiah Thomas. When Isaiah Thomas was the last pick in the NBA draft, I still was hanging out with him. He still would come to my gym. He still would hang with me at my home. And when I kept saying this is one of the best players in basketball; any time a man could be 5'9" and average over 20 points, you have to be extremely tough. All I have to say is this with the Cam Newton situation, I want Cam Newton to continue to hold his head up high. It's okay if he didn't want to talk. He's human. Sometimes it's best not to say anything if it's not going to be the right thing. If it's going to be something negative or something where you're going to get a lot of backlash, it's best you say, "You know what? Let me calm the rest and walk this off." Like I said before, you can't discredit the Denver Broncos defense. Like I said, Denver Broncos, they played their ass off. When they say defense wins championships, sometimes it's true, sometimes it's not true. Because one thing we do know about the Splash Brothers and The Golden State Warriors, they outshoot you. That's all offense; they outshoot you. All I'm saying is this, I've been a Cam Newton fan because I was betting on Cam Newton in college. I always said he was a remarkable player; a remarkable player and very marketable. I know his story. When he was in college, they gave his father a lot of flack; a very, very interesting story, but he beat all odds. He was destined to get to where he got to.

BE SURE TO CHECK BACK SOON FOR MUCH MORE WITH RETIRED UNDEFEATED FORMER POUND-FOR-POUND KING FLOYD MAYWEATHER

ALSO SEE:

FLOYD MAYWEATHER SAYS HE COULD SHUT DOWN CANELO VS. KHAN BY FIGHTING DANNY GARCIA IN 50TH FIGHT

FLOYD MAYWEATHER BACKS BEYONCE AND SUPER BOWL PERFORMANCE: "ANYONE ELSE, THEY WOULDN'T HAVE NOTHING TO SAY"
[ Follow Ben Thompson on Twitter @fighthype ]