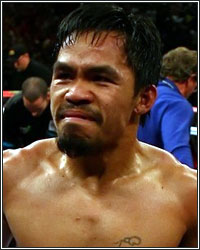 Despite Koncz denying our previous report regarding an effort to remove VisionQwest Resource Group from the services of Manny Pacquiao, it appears something indeed prompted the eight-division world champion to fire the company. FightHype.com just received an email from Michael Lodge, President & CEO of VisionQwest Resource Group, with the following statement: "Our office just received a letter via fax from Manny's attorney from Los Angeles terminating our services to Manny. We have forwarded the letter to our legal counsel to respond accordingly. As you know, there has been a lot of pressure upon Manny from outside sources to remove us from his accounting team."

Whether or not the "outside sources" that Lodge is referring to are related to our story regarding Hall of Fame promoter Bob Arum remains to be seen, however, it's clear that someone has convinced Pacquiao that he is no longer in need of the company he orginally hired to ensure all of his accounting, both personal and business, is in order. Lodge continued, "Our firm will deal with this issue in a legal manner under the contract laws afforded us as a business on the issue of interference in ones business. We will be forthcoming upon our attorneys review as to what our response will be. As you know, we are in the Philippines meeting with our counterparts in legal and accounting prior to meeting with Manny. However, it appears now that this is a legal matter that needs to be dealt with in the correct manner. We will wait for our attorneys review in the United States and in the Philippines."

Does anybody still think that FightHype's report was "totally absurd" as Koncz claims? If so, let me remind you that our source informed us well in advance that shortly after a representative of VisionQwest contacted the Nevada State Athletic Commission in an attempt to gather information pertaining to Pacquiao's bout agreements, Arum went on the offensive, arming Koncz with information to present to the eight-divison champion, and also according to our source, Koncz had a meeting with Pacquiao and presented him documentation that made it appear as though VisionQwest "tricked him" into signing a power of attorney that granted them full control of his business affairs, which prompted an angry Pacquiao to storm out of the meeting with the intent to terminate the services of VisionQwest. Shortly after FightHype's report, Lodge contacted us with the following statement: "VisionQwest has been made aware of an attempted interference from individuals and we are addressing these issues with our client. We have been presented with the facts of the interference as it relates to various parties involved. We have reviewed the issues and the appropriate response will be forthcoming. However, the focus of this trip is to confirm our dedication as a firm to our client and that interferences will not be tolerated."

All of that information was provided well before the news of the firing. Clearly, FightHype's report was not as "absurd" as Koncz claims.

Stay tuned as this story continues to develop.
[ Follow Ben Thompson on Twitter @fighthype ]